This nut free peanut sauce recipe is based on a traditional Thai-style peanut sauce but swaps out peanut butter for sunflower seed butter and soy sauce for coconut aminos, which is a soy free alternative. You'd never know though because this recipe tastes just like the original, or even better in my opinion. 😉
This recipe is great for anyone who has a soy or peanut allergy, and as a bonus it is also gluten free, dairy free and vegan. It's quick, easy, and uses simple ingredients. It's great to use as a dressing for noodles, or as a dipping sauce. It's got a ton of that umami flavor!
Below you'll also find substitutions for other ingredients and dietary modifications to change this recipe to suit your needs.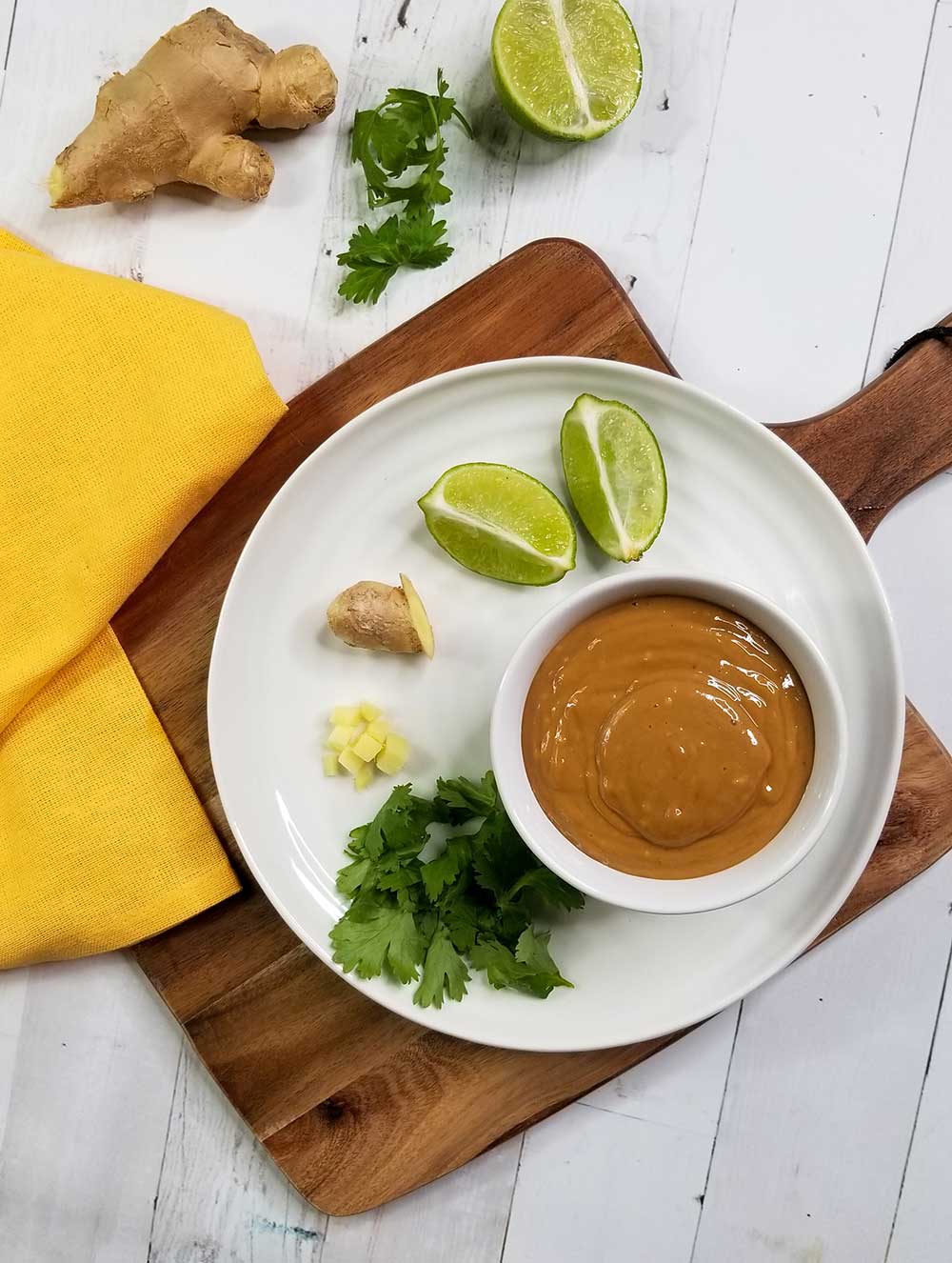 Recipe ingredient substitutions
Sunflower butter substitutions: If you don't have sunflower seed butter or you don't like sunflower seeds, you can also use other nut-free butters like almond butter or cashew butter. If you are not allergic to peanuts, you could also use peanut butter. Tahini might also work but I've never tried it because I assume sesame seeds might be overpowering.
Coconut aminos substitutions: If you don't have coconut aminos, you can also use a gluten-free tamari sauce if you tolerate soy. If you tolerate both soy and gluten, you could use a regular soy sauce.
Rice vinegar substitutions: If you don't have rice vinegar, you could also use white wine vinegar, apple cider vinegar, or even white vinegar.
Chili garlic dressing substitutions: If you aren't able to get the Naked brand chili garlic dressing, you could use any other type of chili sauce that you can find, but keep an eye on the ingredients if you are avoiding soy and gluten.
Fresh lime juice substitutions: If you don't have lime, you could also use lemon juice.
Fresh ginger substitutions: If you don't have fresh ginger, you could also use powdered ginger but lower the amount down to ¼ teaspoon.
Brown sugar substitutions: Instead of brown sugar, you could also use coconut sugar, cane sugar, you could even add maple syrup.
Flavor substitutions: You can also add spicy things like red pepper flakes, red chili pepper, cayenne pepper, sriracha sauce, or garlic cloves.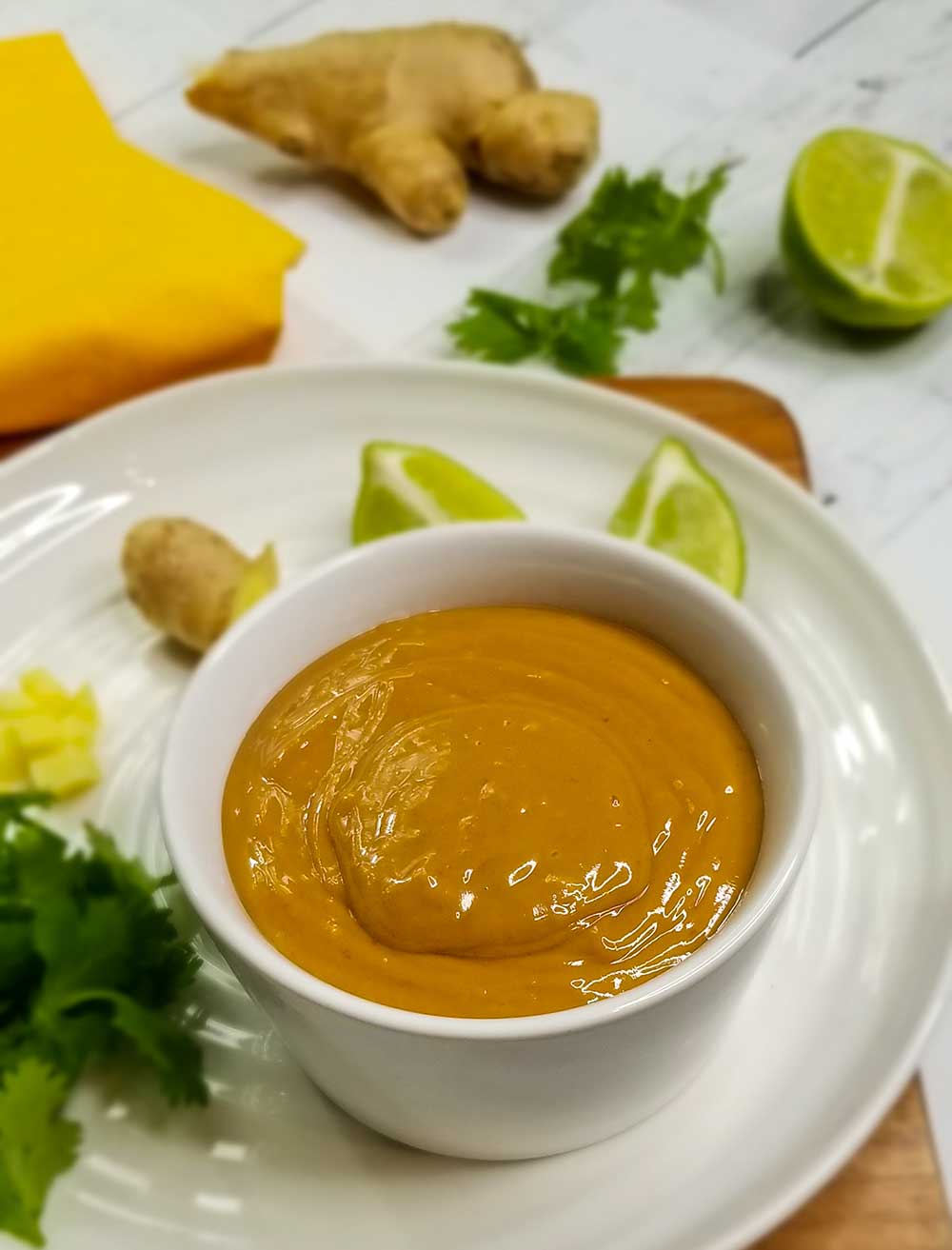 Dietary modifications
Make this recipe keto or low carb: If you are on a sugar-free diet, you could leave this ingredient out or replace it with a sugar-free substitute such as swerve or stevia.
Recipe pairing ideas
Make fresh spring rolls: Get some rice wraps and follow the instructions to soften them up. Then fill them with rice noodles, shrimp and vegetables such as shredded carrots, bean sprouts, fresh cilantro, and a little sesame oil. Feel free to swap out the shrimp with other types of meat, and mix and match the vegetables. Wrap them up tightly and enjoy!
Make chicken satay: This recipe is also very similar to satay sauce so use it with chicken skewers for a dipping sauce.
Make lettuce wraps: Get one of those living heads of butter lettuce that they sell at the grocery store and fill the leaves with chicken, cabbage, cilantro, and thai chilies. Then drizzle this gluten-free peanut sauce over the top!
Use it as a salad dressing: Top your favorite garden salad with this!
Use it on roasted veggies: Roast up some sweet potato, broccoli, or cauliflower and then toss them in this delicious peanut sauce to give it tons of flavor.
Use it on buddha bowls: Load up a bowl with white or brown rice, roasted vegetables, nuts and seeds, edamame, shredded carrots, beets and cucumbers. Then top it with this sauce!
Frequently asked questions
What equipment do you need for this recipe?
For this recipe you will need a chopping board, kitchen knife and a small food processor or blender.
We use a small Braun mixer with a food processor attachment, but you could use a regular food processor or even a regular blender. If you don't have any of this equipment you could also mix the sauce by hand, but if you do just make sure to grate the fresh ginger really finely otherwise you'll be munching on big chunks while eating! 😆
Optional equipment includes a citrus juicer, but juicing the lime can also be done by hand!
This sauce is too thick, I'm looking to use it as more of a dressing, what can I do?
You can add a bit of coconut milk, liquid coconut oil or olive oil, additional vinegar or even fish sauce to thin it out and get the desired consistency.
You might also like
If you liked this recipe, check out my other Thai recipes:
If you are looking for more recipes, download my free 7 day gluten & dairy free meal plan!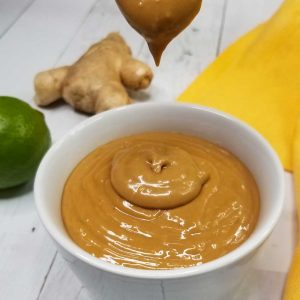 Thai "Peanut Sauce" Recipe (Nut Free)
This recipe is peanut free, soy free, dairy free, gluten free and vegan.
Ingredients
1/2

cup

sunflower seed butter

2

tbsp

coconut aminos

1

tbsp

rice vinegar

1

tbsp

chili garlic dressing

1

lime

1

tbsp

fresh ginger

2

tbsp

brown sugar

(or coconut palm sugar)

1/2

tsp

salt
Instructions
Add 1/2 cup of sunflower seed butter to your small food processor.

Add all remaining liquids to the food processor (coconut aminos, rice vinegar, chili garlic sauce, and fresh squeezed lime).

Chop the fresh ginger and add 1 packed tbsp full of it into the food processor.

Add all remaining dry ingredients to the food processor (brown sugar and salt).

Now you are ready to blend!

Blend everything in your food processor until it has a smooth consistency.

Store your leftovers in an airtight container or sealed Mason jar in the fridge for up to 1 week. If you want it to last longer, freeze it.
Nutrition
Calories:
331
kcal
Carbohydrates:
26.4
g
Protein:
9.5
g
Fat:
21.4
g
Saturated Fat:
2.7
g
Polyunsaturated Fat:
8
g
Monounsaturated Fat:
10.7
g
Sodium:
850.9
mg
Potassium:
105.9
mg
Fiber:
5.4
g
Sugar:
17.7
g
Pin this nut free thai "peanut" sauce recipe for later!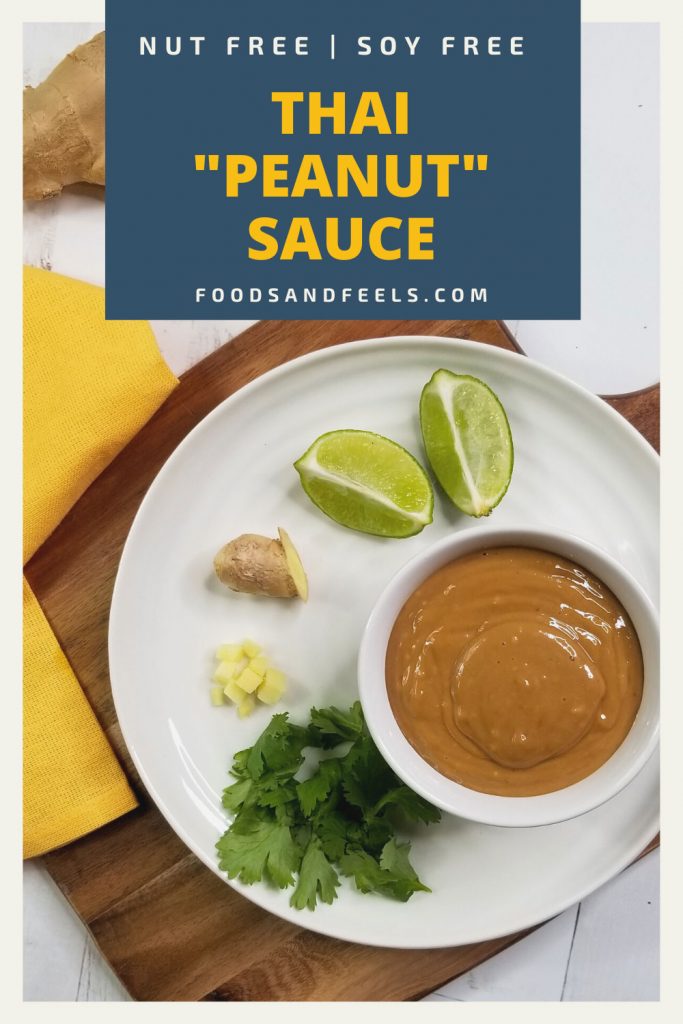 Disclaimer: This recipe post contains Amazon affiliate links. This means that if you click on a link and make a purchase, I will receive a small commission (at no extra cost to you). This helps support me so that I can continue to put out high quality, free recipes for you guys! Thank you 😁🙌