In this recipe, I teach you how to make gluten free pad thai from scratch as well as share a recipe for tamarind paste as the base for the pad thai sauce. As an added bonus, I made sure this recipe is also dairy, peanut AND soy free!
Pad thai has got to be one of the best meals that's quick, easy and oh so tasty! Many people wonder, is pad thai gluten free? It can appear so because it's usually made with rice noodles. However, pad thai recipes often call for soy sauce and most soy sauces contain gluten.
Instead of soy, this recipe calls for coconut aminos which is a gluten- and soy-free alternative to soy sauce. Coconut aminos looks and tastes pretty much identical to soy sauce but is made from the fermented sap of coconut palm.
I've also removed peanuts from this recipe and replaced them with sunflower butter to make the recipe even more allergy friendly.
I have provided recipe substitutions and variations below to make this recipe vegan, paleo, keto and low oxalate.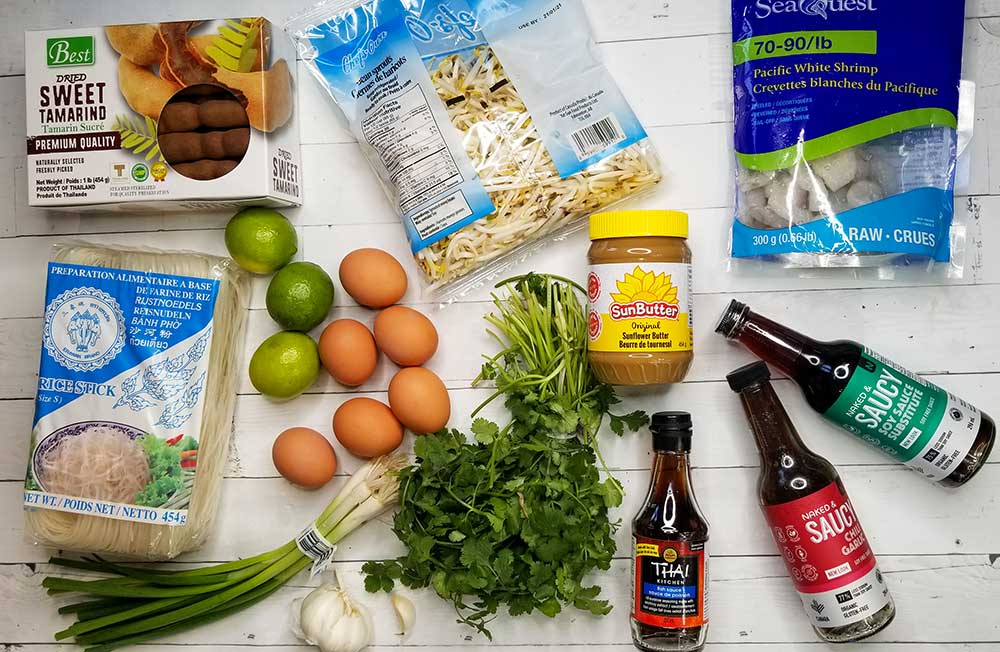 Recipe substitutions or variations
Substitutions
Tamarind paste substitutions: if you don't want to spend the time making your own tamarind paste, or are not able to find whole dried tamarind at the grocery store, you can swap it out for store-bought tamarind paste. Keep in mind though that the store-bought stuff will be more concentrated and strong so start small and work your way up.
Coconut aminos substitutions: if you don't have or aren't able to access coconut aminos, you can also swap this out for a gluten-free tamari but keep in mind this will contain soy.
Sunflower butter substitutions: if you don't have an allergy to peanuts, you can swap this out for regular peanut butter. Or alternatively you could use any other nut butter such as almond butter.
Coconut oil substitutions: you can swap out the coconut oil for any other type of oil or vegan butter.
Protein substitutions: the protein in this recipe is provided by the eggs and shrimp but you can use any type of protein you like such as chicken breast, pork or beef.
Variations
Make this recipe vegan: Omit the eggs, fish sauce, and shrimp.
Make this recipe low oxalate: This recipe is already fairly low oxalate but if you want to go even lower, swap out the garlic powder for fresh garlic and omit the chili garlic sauce. I haven't been able to find out whether tamarind is high or low oxalate, so if you know please advise me!
Make this recipe paleo/keto: To make this recipe grain free and lower in carbohydrates, swap out the rice noodles for any type of grain free alternatives such as shirataki noodles, zucchini noodles or simply use the bean sprouts as your noodle base.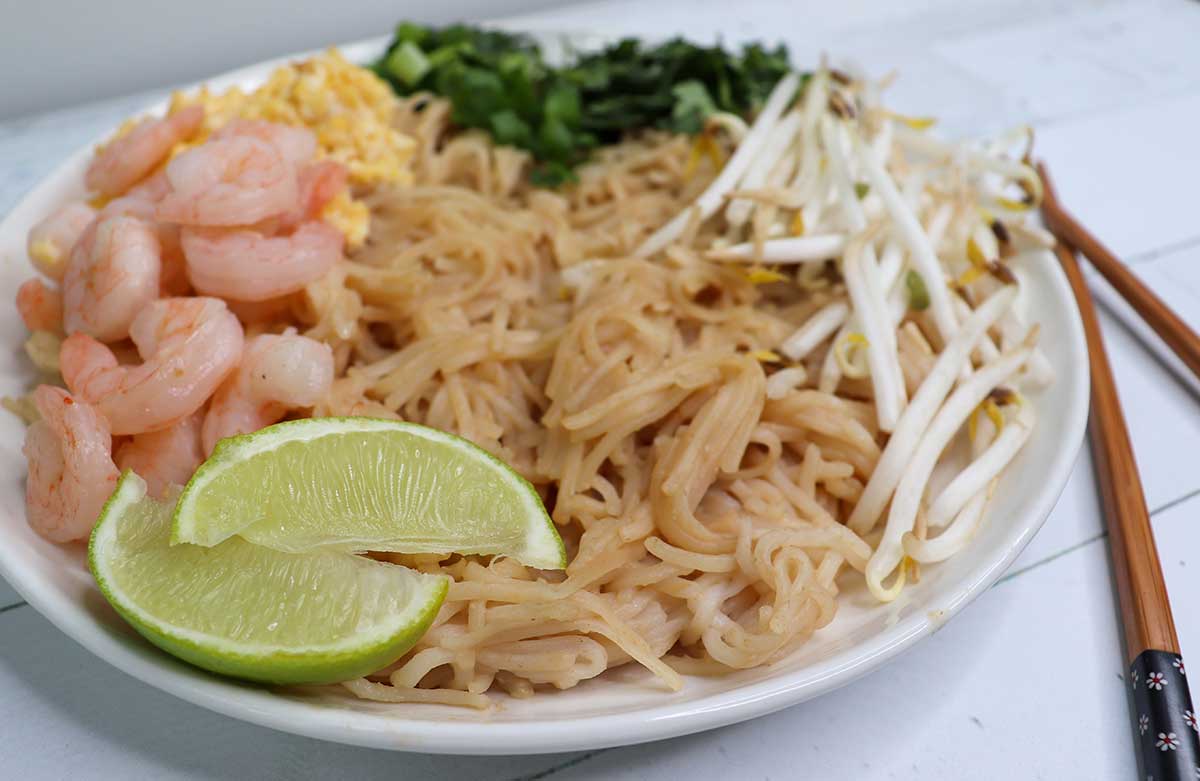 Recipe FAQs
Is tamarind paste gluten-free?
This homemade recipe for tamarind paste only contains whole dried tamarind and water, making it gluten-free. I cannot vouch for other premade store-bought tamarind paste though so if you are buying it from the store, be sure to check the ingredients ahead of time.
Are pad thai noodles gluten-free?
Pad thai noodles are made from white rice and are therefore gluten-free. Make sure to check the ingredients label though before you purchase it just to be sure.
What are the ingredients in tamarind paste?
In this recipe for tamarind paste, the only ingredients are whole dried tamarinds and water. If you are buying store-bought tamarind paste it will likely have many more ingredients than this, most of which are not needed, so just make sure to check the ingredients and allergy warnings on the back if you are going to use store-bought.
How do you make tamarind paste at home?
Making tamarind paste from dried tamarind is super easy. I provide more detailed instructions below in the recipe card but basically all you have to do is de-shell the tamarind, put them all in about 2 cups of boiling water, wait 20 minutes and then squish them around with your hands until it starts getting thicker, and then put it through a fine strainer. That's it!
Pin this recipe for later
If you can't make my gluten free pad thai recipe now, make sure to pin the recipe for later so you have it handy!
Want more gluten free and dairy free recipes?
All the recipes on my blog are both gluten & dairy free, ALWAYS. If you are looking for more, you can also check out my 1 month gluten & dairy free meal plan or recipe book (which comes with 140 additional recipes for breakfasts, lunches, dinners, snacks & desserts).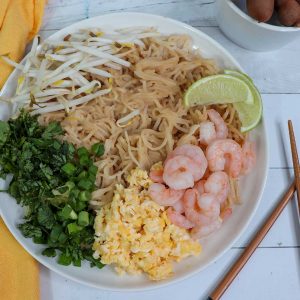 Gluten Free Pad Thai Recipe (Soy & Peanut Free)
This recipe is gluten free, dairy free, and soy free.
Ingredients
Tamarind paste
1

box

whole dried tamarind

2

cups

boiling water
Pad thai sauce
1

cup

fresh tamarind paste

See directions

2

tbsp

lime juice

1

tbsp

Naked chili garlic sauce

1/4

cup

fish sauce

1/4

cup

coconut aminos

1/4

cup

sunflower butter

1

tsp

garlic powder
Pad thai ingredients
1

bunch

fresh cilantro

1

bunch

green onions

1

bag

bean sprouts

2

tbsp

coconut oil

6

Eggs

1

bag

shrimp

450

g

rice noodles

1

tsp

salt

2

limes

(for garnish)
Instructions
Tamarind paste
De-shell the tamarind and pull off all the little stringy bits

Put the shelled tamarind in 2 cups of boiling water and let them soak for around 20 minutes

After 20 minutes have passed, squish them around with your hands until it starts getting thicker and more paste like. Optionally at this point you can remove the seeds.

Put the mixture through a fine strainer, pushing the paste through to get as much as possible

Keep 1 cup out for the recipe and freeze the rest for next time. Or alternatively, you can double the recipe for the pad thai sauce (also doubling the amount of tamarind paste from 1 cup to 2 cups) and then freeze the rest afterwards.
Pad thai sauce
Add to the tamarind paste the lime juice, chili garlic sauce, fish sauce, coconut aminos, sunflower butter and garlic powder. Mix sauce thoroughly with a fork or mixer.
Main dish
Chop up cilantro and green onions and put aside

Scramble 6 eggs in a pan on medium heat with 1 tablespoon of coconut oil. Once done, set aside.

Add another 1 tablespoon coconut oil to the pan and add your bag of shrimp making sure to shell/de-vine them.

Boil water and add 1 teaspoon salt. Once water is boiling add the rice noodles, stirring often until cooked through. Remove and strain.

Put the noodles back in the pot.

Pour 1 cup of the pad thai sauce into cooked noodles and stir until sauce is mixed in and distributed evenly.

Serve on a plate and then add garnish of fresh cilantro, green onions, scrambled eggs, bean sprouts, shrimp and additional lime wedges.
Notes
For this recipe we will be making tamarind paste from whole, dried tamarind. 
The amount of tamarind paste this recipe calls for is a touch more than what you'd need if you purchased the store-bought stuff because we're using actual tamarind. Store bought tamarind paste can be very concentrated and strong – so I wanted to make sure to give you a head's up on this. If using store-bought tamarind paste, you may want to consider putting a little bit less in.
Nutrition
Calories:
609
kcal
Carbohydrates:
88.2
g
Protein:
34.5
g
Fat:
14.3
g
Saturated Fat:
5.9
g
Polyunsaturated Fat:
2.3
g
Monounsaturated Fat:
3.5
g
Trans Fat:
0
g
Cholesterol:
337.1
mg
Sodium:
685.6
mg
Potassium:
409
mg
Fiber:
4.2
g
Sugar:
16.6
g
About the author Tara Klippert
Tara Klippert is a Registered Health and Nutrition Counselor and holds a diploma in Holistic Nutrition and Health Coaching. She shares her gluten free, dairy free & allergy friendly recipes.