Anyone else grow up eating egg in a hole? it's got a different name, depending on where you grew up. It's also known as "egg in the basket", or "gashouse eggs." Wikipedia actually lists a ton of different names for this recipe.
This is one of those recipes which is great for making with kids because it's like a game. Put a slice of bread down in front of them and give them a biscuit cutter or shot glass to cut out the center of the bread. They can be helpful while also having fun with you in the kitchen, it's great for the whole family!
Also, this recipe really couldn't be easier with its simple ingredients and straight forward directions. Its comfort food at it's absolute finest.
This dish is super nostalgic for me because my parents used to make this for breakfast when I was younger. My partner also grew up eating this but says his favorite part was the fried circle of bread haha!
My recipe for traditional egg in a hole uses gluten free bread and dairy free (vegan) butter, but you can use regular bread and butter as well. It will turn out exactly the same!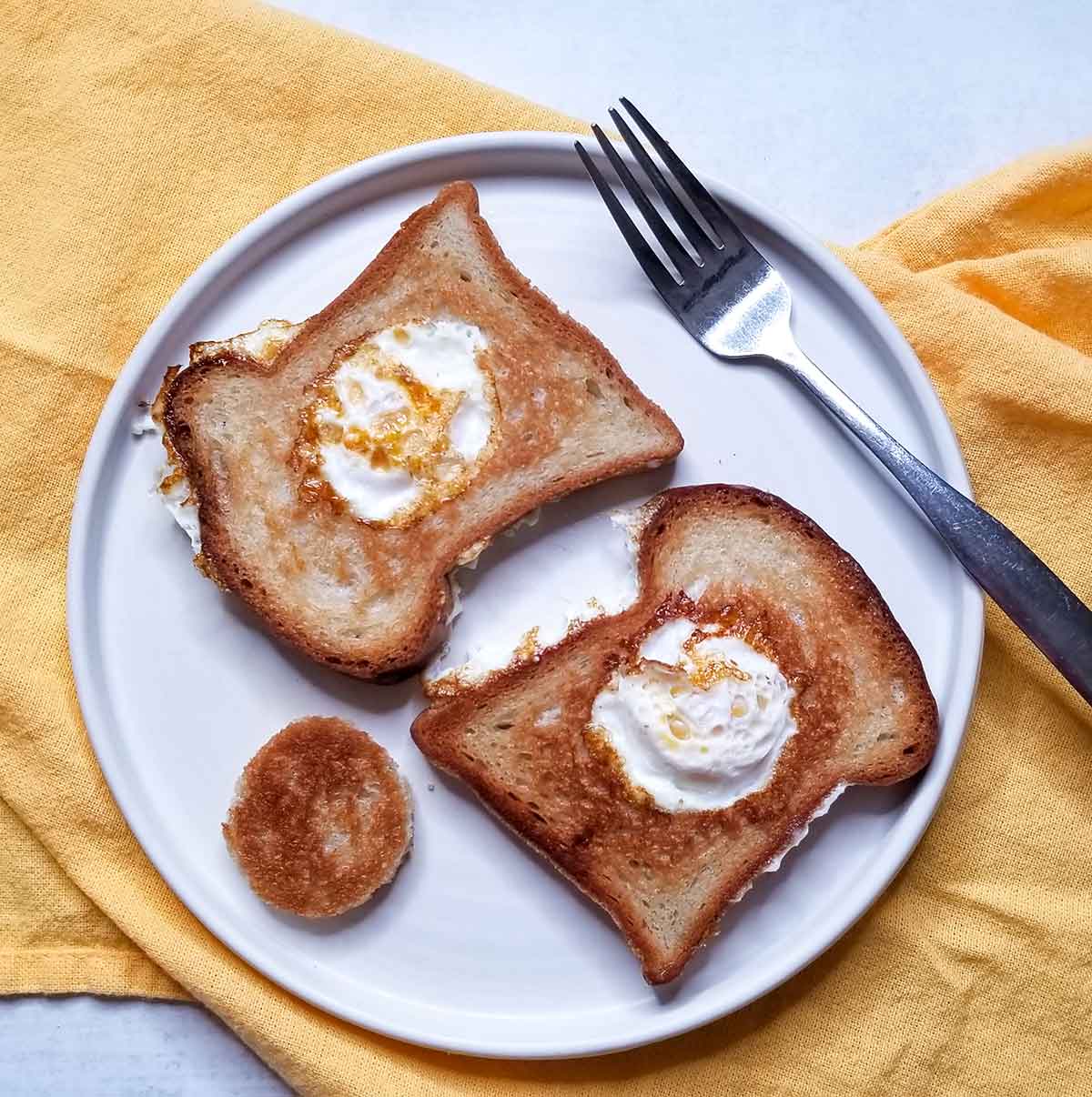 Recipe ingredient substitutions
Gluten free bread substitutions: There are many different styles of gluten free sliced bread these days. This recipe will work with any type of bread, gluten-free or otherwise. I have also made it with store-bought low carb/keto bread with good success.
Butter substitutions: Feel free to use any brand of oil-based vegan butter. I have found that cashew based vegan butter doesn't give a consistent result, so avoid those for this recipe. Instead of vegan butter, you can also use regular cow's milk butter. If you want something to blow your mind, instead of using butter, coat both sides of the bread with mayo. It's amazing, trust me.
Egg substitutions: You could theoretically make this with egg substitutes such as Just Egg. I have never tried it, so if you do let me know in the comments! To make it fully vegan, make sure to use vegan butter.
Recipe variations
Extra flavor: Sprinkle some fresh chives (or green onion) and black pepper on top of the egg while it's cooking. Also a little dairy free or regular parmesan cheese never hurt anyone.
Make fun shapes: Instead of using a round shot glass, use any of your small cookie cutters to cut out your bread. You could make them a heart shape, star shape, or whatever else you've got!
Dietary modifications
Make this recipe lower carb: Use a lower carb/keto bread. I have had really good results with Carbonaut brand breads as they have the most consistent flavour and texture to regular bread. In Canada, I have found this brand at all Loblaw's stores.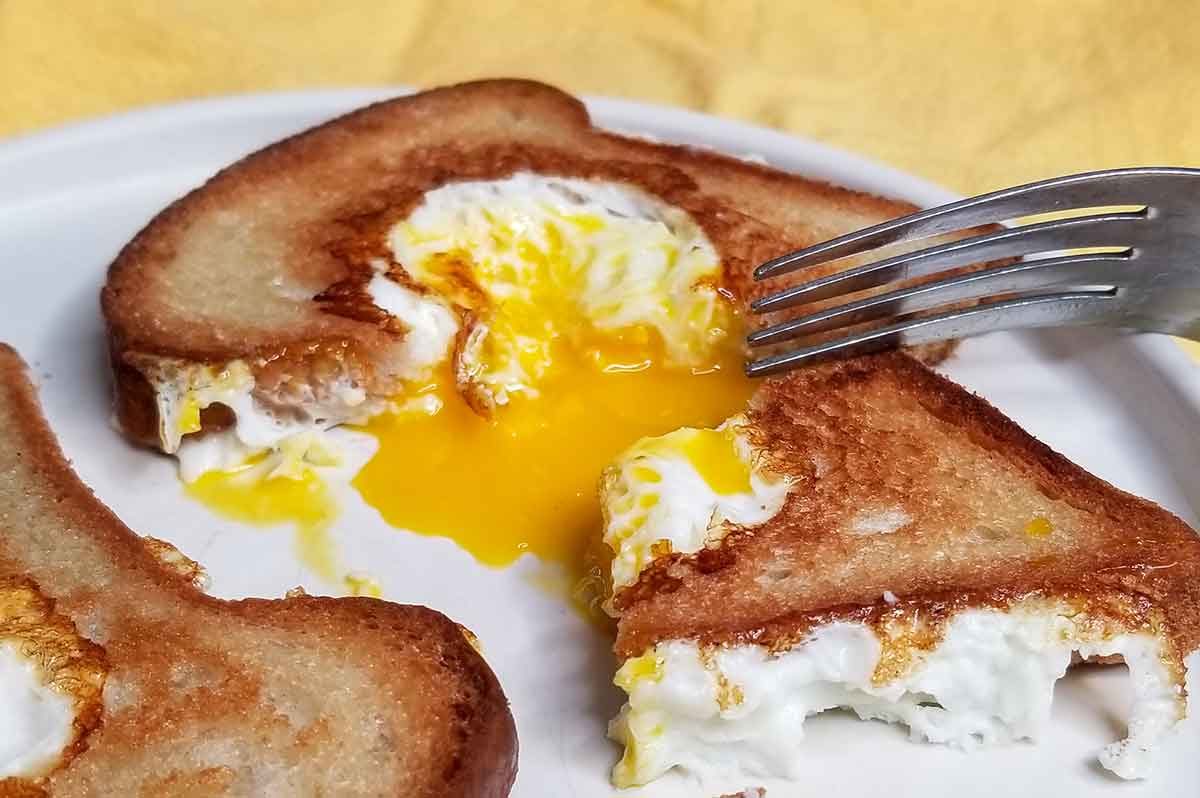 Recipe pairing ideas
Grilled cheese sandwiches: Use 2 *egg in a holes* to make a grilled cheese. Just add a slice of cheese (dairy free or regular) between both pieces of egg toast when they're done cooking. The heat will melt the cheese. Dip in ketchup and enjoy!
Easy breakfast recipe: A couple of these with some crispy bacon, hash browns and fresh fruit would be fantastic. You're starting the day off on a high note. Most delicious breakfast of your life!
French toast: Drizzle your egg in a hole with maple syrup and enjoy as a twist on the popular breakfast recipe.
Pro tips for this recipe:
Make sure you soften the butter ahead of time
Make sure to take your butter out of the fridge to soften ahead of time. If not, it's really hard to spread and will tear up your bread slices and not distribute evenly.
Don't be shy with the butter
Spread an ample amount of butter onto each side of your bread slices. If you don't use enough butter, or you don't distribute it evenly, your bread may stick to the pan and could be hard to flip.
Tried my recipe for egg in a hole?
Please leave me a rating and review below, and post a picture of the dish to Instagram and tag me at @foodsnfeels 🙌
You might also like:
If you liked this, check out other egg recipes:
If you are looking for more, download one of my free seven day meal plans!
Egg in a Hole Recipe
This recipe for egg in a hole uses gluten free bread and dairy free (vegan) butter. You can also use regular bread and butter and it will turn out just as good!
Equipment
Stove top

Large frying pan

Butter knife

Glass shot glass

(or round cookie cutter)
Ingredients
2

pieces

gluten-free or regular bread

(thawed)

4

tbsp

vegan butter

(or regular butter)

2

eggs
Instructions
Make sure to take your bread and butter out to thaw/soften ahead of time.

Heat your large skillet on low to medium heat.

Using a butter knife, butter both sides of 2 pieces of bread. Roughly 1 tablespoon of butter per side.

Using your shot glass or small glass, punch out a hole in the middle of both pieces of bread. Note: If you are using really large eggs, your egg may not fit perfectly into the hole and may spill over onto the top of the bread. That is okay! You can also cut out a larger hole in the bread so that the whole egg fits.

Save both of the bread circles you cut out. You will fry these as well and they are excellent for dipping in the egg yolk.

Once your hot pan is ready, place all of your buttered bread into the pan, including the bread circles you cut out. If you are worried about sticking, you can add some additional butter or cooking spray to the pan ahead of time.

Gently crack and add 1 egg into the center of the hole of both slices of bread – directly into the cut out circles. Tip: often I crack my eggs into a bowl first. That way you can pull out any bits of shell that may have cracked off. 

Fry the first side for roughly 4 to 5 minutes or until the bottom is getting golden brown and the egg whites are set. Tip: you can use a flipper to gently lift the corner of your frying bread up so you can peek under and see if it's ready to flip.

Using a flipper, flip each piece of toast gently to its other side. Be careful as you don't want to break your egg yolk! That being said, cook eggs the way you like them. If you want a hard yolk, leave them to cook a few minutes longer.

The second side cooks quicker so fry this side for a couple of minutes. This side doesn't need much time as it is already mostly cooked through from the other side. You also don't want to overcook your egg and have it harden up. Dipping the bread circle in the runny yolk is the best part. Top with a little salt and hot sauce if needed.
Notes
Above in the blog post I provide recipe ingredient substitutions as well as dietary modifications. I also provide step-by-step instructions with photos to make this recipe.
Nutrition
Calories:
376
kcal
Carbohydrates:
14
g
Protein:
8.5
g
Fat:
31
g
Saturated Fat:
8
g
Polyunsaturated Fat:
6
g
Monounsaturated Fat:
12
g
Trans Fat:
0
g
Cholesterol:
186
mg
Sodium:
280
mg
Potassium:
70
mg
Fiber:
2
g
Sugar:
1.1
g
Disclaimer: This recipe post contains Amazon affiliate links. This means that if you click on a link and make a purchase, I will receive a small commission (at no extra cost to you). This helps support me so that I can continue to put out high quality, free recipes for you guys! Thank you 😁🙌