Scrambled eggs are the perfect breakfast, and they only take a few minutes to make! They are rich in protein and healthy fats, and will leave you feeling satiated all the way until lunch time.
I highly suggest using good quality eggs for this recipe. When you get free range, organic eggs you can immediately tell the difference in the color of the egg yolks. Good quality eggs have a rich orange yolk.
Recipe ingredient substitutions
Olive oil substitutions
​Instead of olive oil you can use vegan butter, regular butter or any other cooking oil of choice such as vegetable oil, canola oil, avocado oil, or coconut oil.
Recipe variations
Reduce the amount of calories
To reduce the calories in this dish, reduce the amount of olive oil down to 1/2 – 1 tablespoon instead of 2. If you do this, make sure you use a nonstick skillet to avoid your eggs sticking to the bottom of the pan.
Another way to reduce the calories is by using mostly egg whites. To do this, use 3 regular whole eggs and then separate the yolk from an additional three eggs and only use the whites.
I wouldn't recommend using a stainless steel pan unless you are using the full amount of fat this recipe calls for (2 tablespoons), because your eggs will stick to it.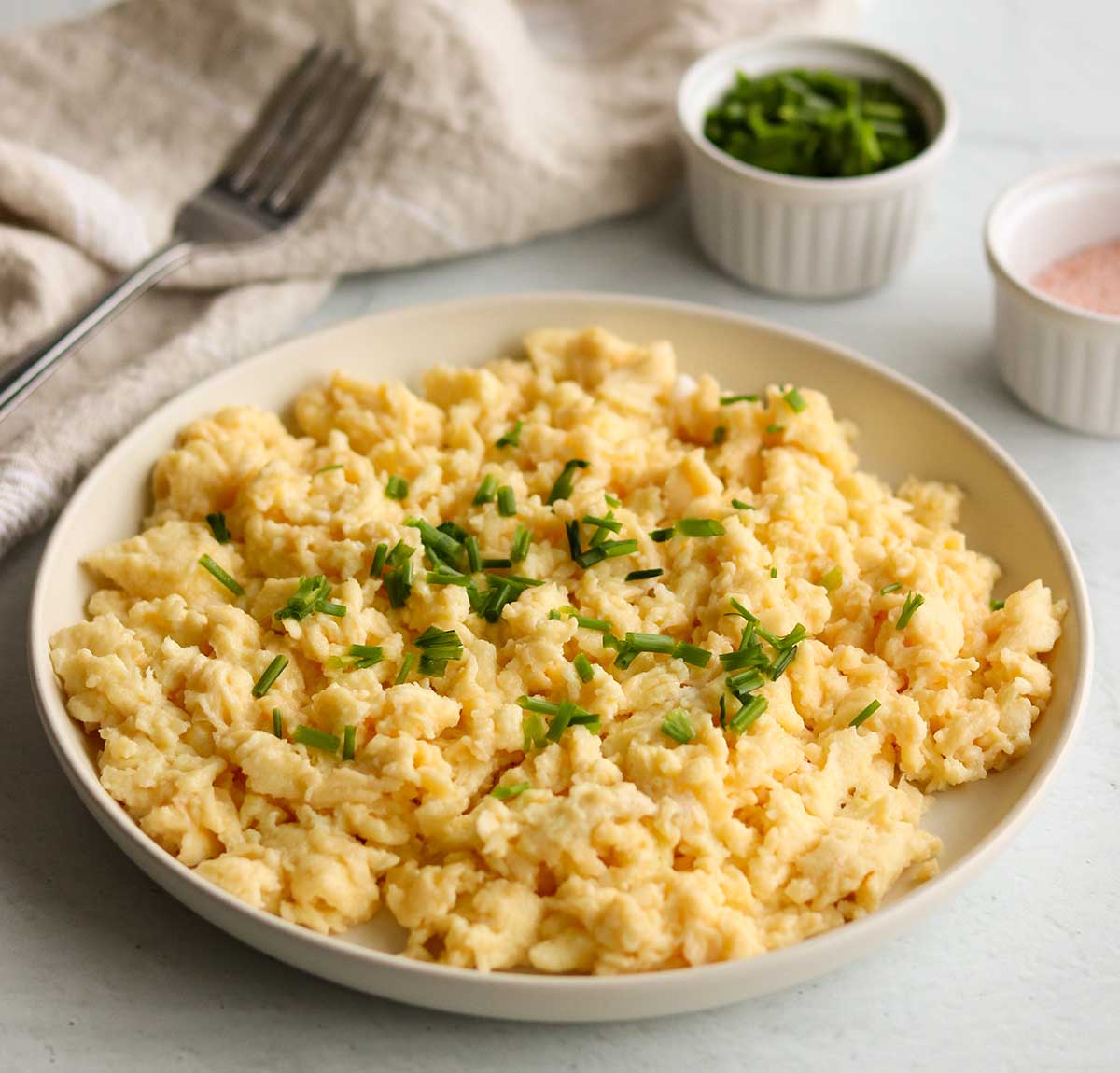 Add a bit of milk or heavy cream
Even though there is no milk or cream in this recipe, if you want extra fluffy eggs, you can add a splash of whole milk or heavy cream. There is no need though, as these scrambled eggs are nice and fluffy on their own without it.
You can also use dairy free milk like almond milk, coconut milk, oat milk, soy milk, or cashew milk. Just keep in mind that the addition of milk can make your eggs a bit more watery. Basically, avoid too much liquid.
Add additional flavors
These are the best scrambled eggs on their own, but if you want to add some additional flavor, feel free to add:
Garlic powder or fresh garlic cloves
Onion powder or fresh diced shallot, white onion or red onion
Fresh herbs such as thyme, rosemary, dill, oregano, or basil
Black pepper
Red pepper flakes
Make it into a scramble
Add additional protein and veggies into your uncooked eggs before scrambling:
Sun-dried or fresh tomatoes
Fresh basil
Onions and garlic
Roasted sweet potatoes
Broccoli
Zucchini
Carrots
Bell pepper
Cooked bacon bits
Sausage
Cheese (regular or dairy free) – cheddar, mozzarella, parmesan, monterey jack, or swiss
Make breakfast burritos
Take your scrambled eggs and put them into a wrap or tortilla with some salsa, cheese, black beans, sour cream and cilantro.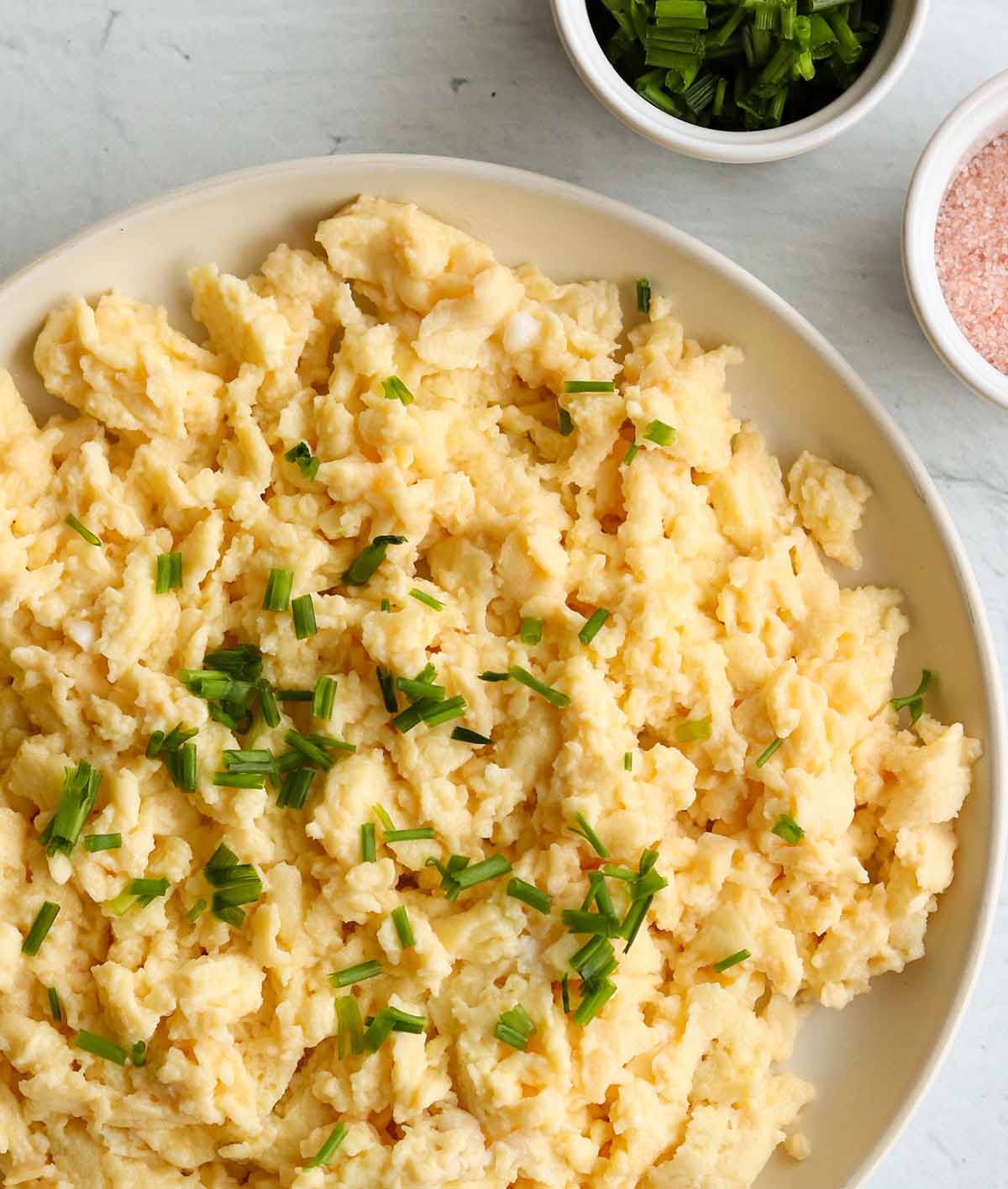 Recipe pairings
Serve these delicious eggs with:
Fruit salad or fresh fruit
Muffin
Smoothie
Sausage or bacon
Coffee or tea
Frequently asked questions
What can I substitute for milk in scrambled eggs?
Instead of using milk in scrambled eggs, you can also use heavy cream or a dairy free milk alternative. However, you do not need milk to get that delicious fluffy texture. You can still get that by using an adequate amount of butter or oil.
Do you need milk in scrambled eggs?
You do not need milk or cream to make scrambled eggs. It will work just as well with oil or butter.
Can you put water in eggs instead of milk?
You can put water in eggs instead of milk, however it may make your scrambled eggs too watery. If you aren't using milk, just use oil or butter. It will work just as well. Milk is not necessary when cooking eggs.
How do restaurants make their scrambled eggs so fluffy?
Scrambled eggs from restaurants are often extra fluffy and delicious. They achieve this by adding ample amounts of butter and heavy cream to their scrambled eggs.
What can you use instead of butter in scrambled eggs?
Instead of butter in scrambled eggs, you can use olive oil or any other cooking oil of choice. Avocado oil, coconut oil, canola oil or vegetable oil will all work.
Tried my fluffy scrambled eggs recipe?
Please leave me a rating and review below, and post a picture of the dish to Instagram and tag me at @foodsnfeels 🙌
You might also like
If you liked this recipe, check out my other egg recipes:
If you are looking for more, download one of my free seven day meal plans!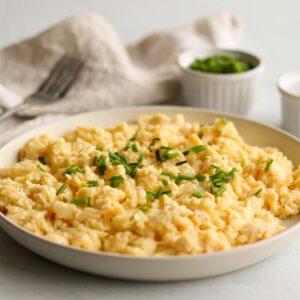 Scrambled Eggs without Milk (Dairy Free)
Scrambled eggs are the perfect breakfast, and they only take a few minutes to make! They are rich in protein and healthy fats, and will leave you feeling satiated all the way until lunch time.
Instructions
Crack your eggs into a small mixing bowl. Dig out any bits of shells that have made their way in. Nobody likes crunchy eggs!

Using a fork or small whisk, whisk up your eggs until the egg yolks and egg whites are thoroughly mixed together.

Heat your frying pan on medium-low heat. I wouldn't recommend frying your scrambled eggs at higher temperatures because it could burn and will affect the consistency.

Add your olive oil and make sure you spread it out all over the bottom and edges of the pan. This will prevent sticking. You can do this by using a flipper or by lifting the pan by the handle and turning it in various directions until the oil coats the whole pan. Be careful as the pan handle might be hot, especially if you are using a cast-iron!

Pour your beaten eggs into the pan, using a silicone or rubber spatula to make sure you got everything out of the bowl.

Immediately start stirring the scrambled egg mixture with a metal flipper. Metal flippers can be used on cast-iron pans but I wouldn't recommend it on a nonstick pan. For nonstick pans, use a plastic flipper. A wooden spoon would also work here!

For the best results, continually stir the eggs around until they are fully cooked, making sure to scrape the eggs off the edge of the pan. You will know when they are fully cooked when they stop looking wet. You get the fluffiest scrambled eggs when you continually stir them, because it doesn't allow them to get chunky or overcooked in any particular area.

Transfer them over to a plate or bowl right away and serve with a pinch of salt and some diced up green onions or chives.

Store the leftovers in an airtight container in the fridge for up to one day. Eggs don't store very well so I would recommend eating them up as soon as possible. If you don't want to have leftovers and you are only cooking for yourself, you can also cut this recipe in half and only use three eggs.
Notes
Nutritional information does not include salt.
Above in the blog post I provide ingredient substitutions and recipe variations.
Nutrition
Calories:
334
kcal
Carbohydrates:
1.1
g
Protein:
19
g
Fat:
28
g
Saturated Fat:
6.6
g
Polyunsaturated Fat:
4.3
g
Monounsaturated Fat:
15.3
g
Trans Fat:
0
g
Cholesterol:
558
mg
Sodium:
213
mg
Potassium:
207
mg
Fiber:
0
g
Sugar:
0.6
g
Disclaimer: This recipe post contains Amazon affiliate links. This means that if you click on a link and make a purchase, I will receive a small commission (at no extra cost to you). This helps support me so that I can continue to put out high quality, free recipes for you guys! Thank you 😁🙌