Leading up to last Christmas, me and my boyfriend had been constantly dreaming and talking about creating a dairy free eggnog cheesecake recipe. Who doesn't need a good healthy cheesecake recipe in their life?
To prepare, we did a decent amount of googling to see what was out there already for dairy free eggnog cheesecake recipes and sadly there wasn't much.
So we figured we would start with a regular eggnog cheesecake recipe and swap everything out that had gluten or dairy. It was a bit of a shot in the dark whether it would work the same or not, but it appears to have turned out just fine! In fact, it turned out friggin' amazing.
Product brands I recommend for this recipe
For consistency and for the best end result, these are the product brands that I recommend using for this dairy free eggnog cheesecake recipe. However, if you can't find these specific ingredients, I suggest some alternatives below in the recipe substitutions for variations section.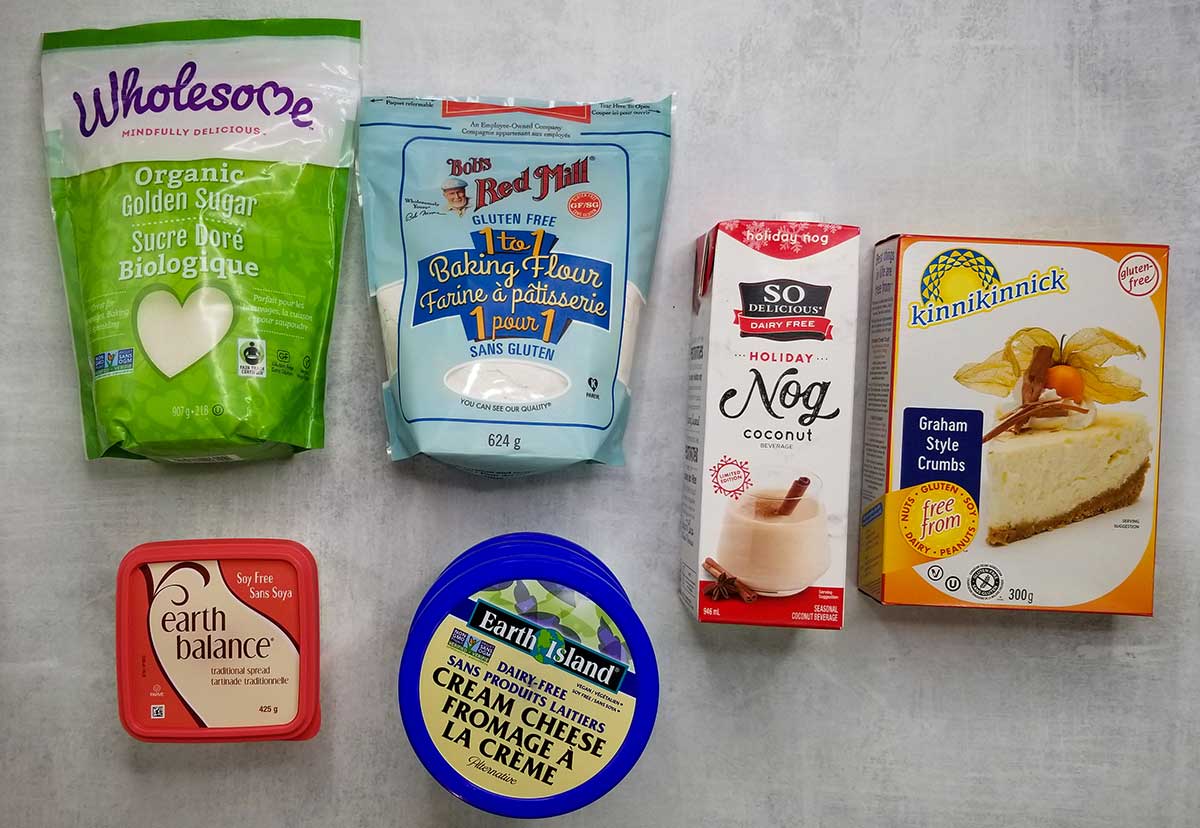 So Delicious holiday nog (vegan and dairy free eggnog)
Wholesome organic golden sugar
Earth Island (Follow Your Heart) dairy free cream cheese
Kinnikinnick gluten-free graham cracker crumbs
Earth Balance soy free vegan butter
Bob's Red Mill 1-to-1 gluten-free baking flour
How to make this recipe
You can find full instructions for this recipe below in the recipe card, but if you prefer to watch this recipe being made step-by-step, check out the cooking video below.
Recipe substitutions or variations
Vegan eggnog: if you aren't able to get So Delicious Holiday Nog (which is made from coconut milk), you can substitute it directly for Califia Farms Holiday Nog (which is made from almond milk).
Vegan cream cheese: if you aren't able to get Earth Island (Follow Your Heart) cream cheese, you can substitute it for Violife cream cheese or Tofutti cream cheese as well. Just keep in mind that swapping out the cream cheese could create differences in the consistency of the end product.
Organic golden sugar: you can also use regular white table sugar, granulated cane sugar or coconut palm sugar.
Gluten-free flour: you can also use any other brand of gluten-free flour blend, or even just straight rice flour or cassava flour.
Gluten free graham cracker crumbs: you can use any other brand of gluten-free graham cracker crumbs, or if you are not intolerant or allergic to gluten you could also use regular graham cracker crumbs made with wheat flour. If you can't find the crumbs but you can find the crackers, you can crumble them yourself.
Vegan butter: you could substitute this for any other vegan butter alternative or spread. I have only tested this recipe though with oil-based butter alternatives, so I can't say whether a cashew or nut based vegan butter would work with this recipe. Let me know though if you try it!
Recipe pairing ideas
This eggnog cheesecake recipe is absolutely fantastic on its own, but if you want to add some additional flavour and garnish, I recommend topping it with:
Whipped coconut cream (by So Delicious): don't feel like you have to get fancy and pipe it onto your cheesecake (although you could if you have the time and desire to!). Simply scoop some on top right before serving. It comes frozen, so make sure to thaw it ahead of time. Or, if you like it similar to an ice cream consistency (it's also super good like that!), you could serve this coconut whipped cream frozen on top of your cheesecake.
Fresh ground nutmeg (or dried): If you have whole nutmeg, you can grate a little bit onto the top of the cheesecake for garnish and extra flavour. If you don't have whole nutmeg, ground nutmeg looks and tastes great as well!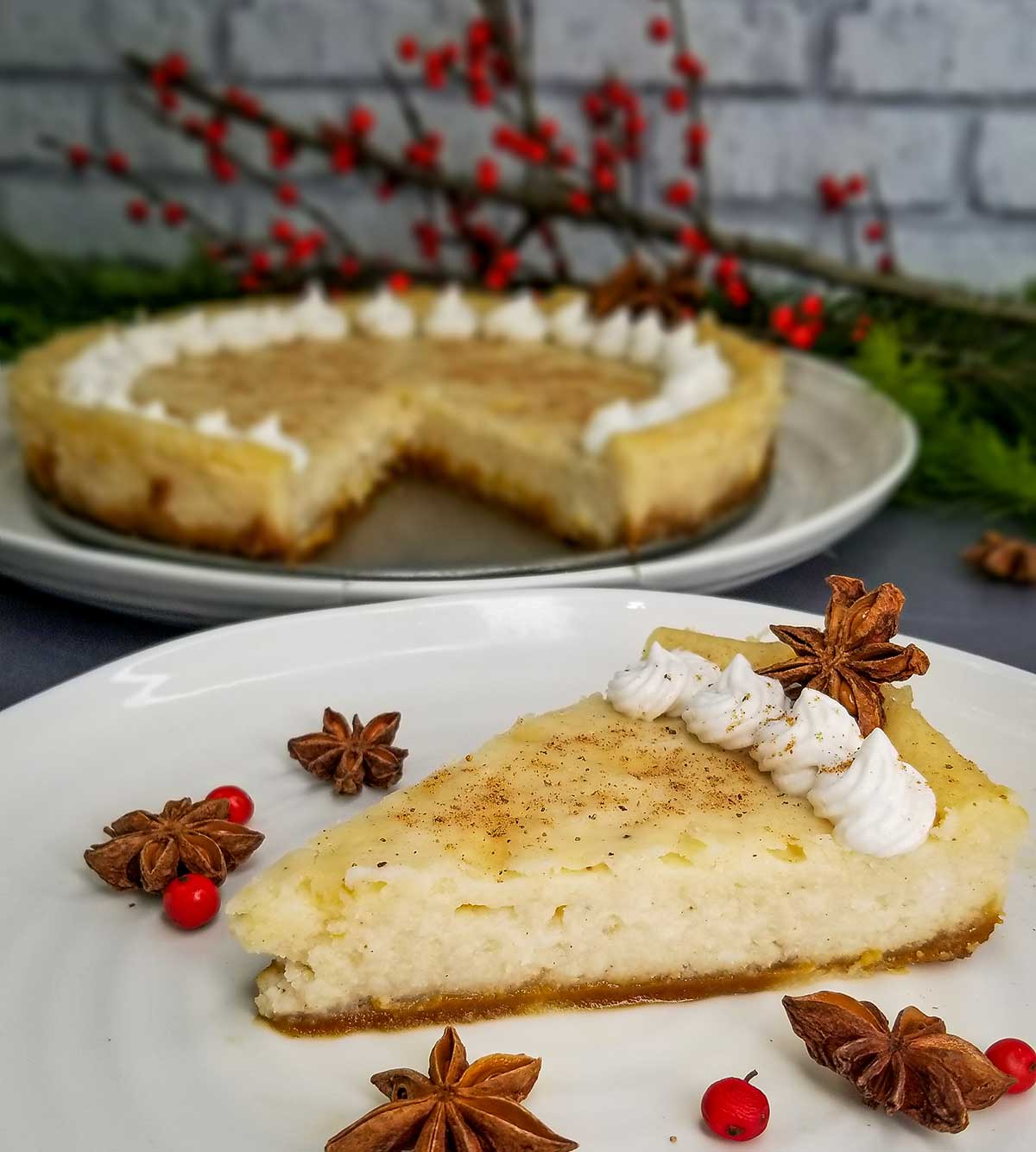 Recipe FAQs
Can this recipe be made vegan?
You can make this cheesecake vegan by omitting the two eggs and adding the equivalent of two egg replacements. I haven't tested this out though, so if you try it let me know!
If you prefer to stick to a tried and tested vegan recipe, try this vegan eggnog cheesecake recipe by Addicted to Dates. It looks amazing and the photos are absolutely gorgeous.
Should it still jiggly after baking it for the recommended cooking time?
Yes, after at least 1 ½ to 1 ¾ of an hour baking time, this dairy free cheesecake is fully cooked through and done, even though it is still going to be a bit jiggly. This is normal. After you have cooled the cheesecake on the counter for at least one hour, it will harden up on its own. After refrigerating it for serving, it will get even more firm.
Does this cheesecake freeze well?
This cheesecake freezes very well. Just make sure that you take it out of the freezer and keep it in the fridge for at least 12 to 24 hours before serving. Serve chilled.
Do I have to use a springform pan?
You can use a different baking dish for this cheesecake recipe if you don't have a springform pan, however just be aware that your end product won't look as clean and neat when you serve it. The springform pan is really what allows the cake to maintain its shape after the outer sides of the pan have been removed.
Can you cut and serve it before it's fully chilled?
I don't recommend cutting and serving this cheesecake before it has had ample time to cool on the counter and then in the fridge. Because it hardens up as it cools, cutting it prematurely will mean making a bit of a mess of the cheesecake. I can tell you this from experience haha!
If it's just you eating it and you don't care, then giver! But if you are serving it to guests, you might want to wait. 😆
Do I have to wrap the springform pan in tin foil?
Wrapping your springform pan in tinfoil is a really important step and prevents the butter in the cheesecake crust from dripping onto the bottom of your oven and creating smoke.
After you have completely baked it though, you can remove the tinfoil and place the pan on a cooling rack on your counter with some fresh tin foil or parchment paper underneath. It will still drip a little bit as its cooling.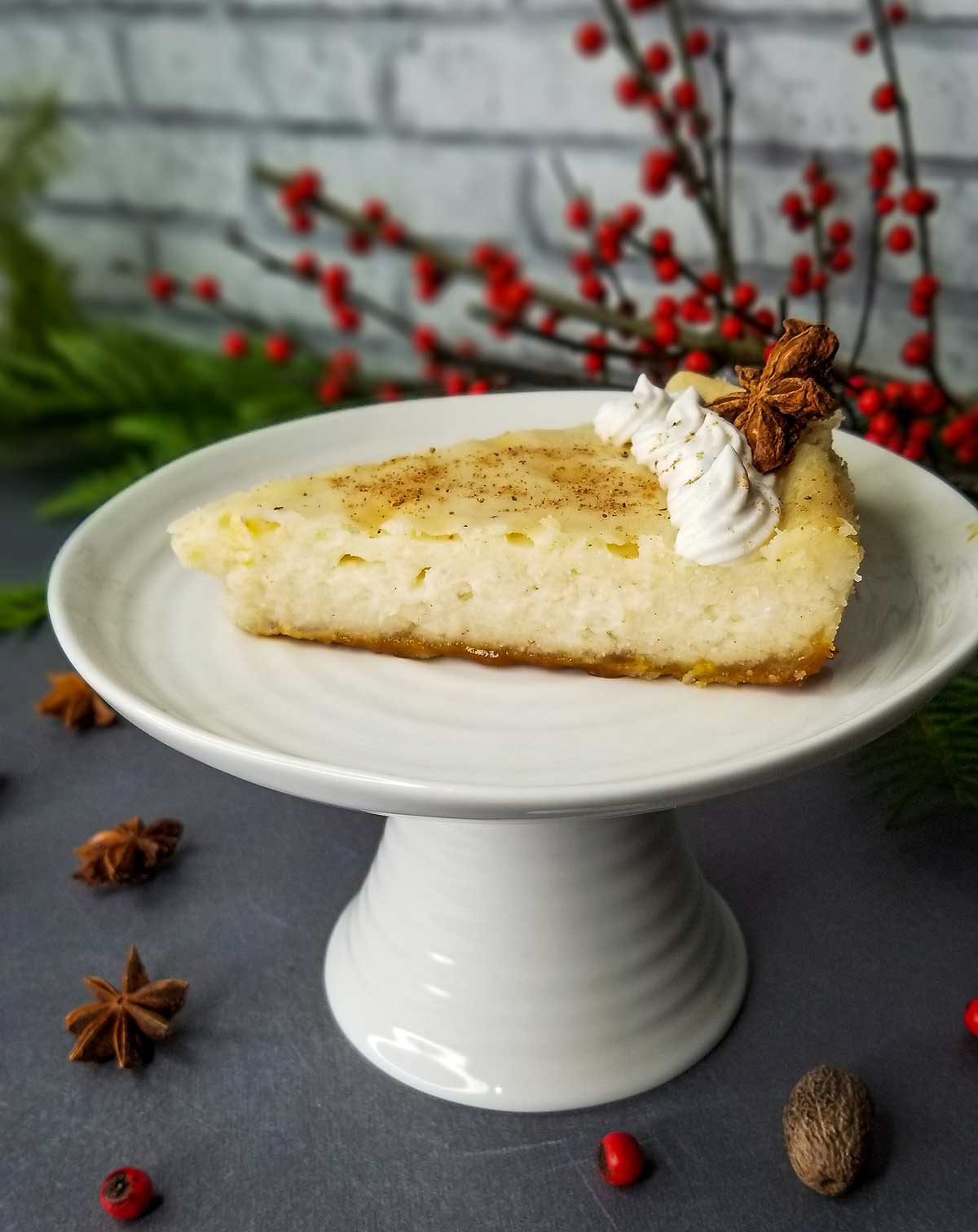 Looking for more healthy holiday recipes?
Check out my AIP ginger molasses cookie dough bites, dairy free baileys and dairy free eggnog rice pudding recipes.
You can also grab my healthy holiday recipes recipe book which comes with 50 savoury and sweet dishes that you can make for your family and friends, and feel good about it!
Tried the recipe?
Please leave me a rating and review below, and post a picture of the dish to Instagram and tag me at @foodsnfeels 🙌
Pin this recipe for later
If you can't make my dairy free eggnog cheesecake now, make sure to pin the recipe for later so you have it handy!
I hope that you enjoy my healthy cheesecake recipe as much as I have enjoyed it lately (like, soo much haha)! Let me know what you think in the comments below. 
Dairy Free Eggnog Cheesecake Recipe
This recipe is gluten free, dairy free, and soy free.
Equipment
Spring form pan

Stand mixer

Tin foil

Cooling rack
Ingredients
3

packages

dairy free cream cheese

8 oz each

1

cup

organic golden sugar

3

tbsp

gluten free flour

2

Eggs

3/4

cup

dairy free egg nog

1/2

tsp

nutmeg
Crust
3

tbsp

vegan butter, melted

3

tbsp

organic golden sugar

1 1/4

cup

gluten free graham cracker crumbs
Instructions
Combine all ingredients for crust (graham cracker crumbs, sugar and melted vegan butter) in a bowl.

Stir crust ingredients with a fork until combined. It will be a crumbly consistency.

Pour the mixed crust ingredients into the bottom of your springform pan.

Press the crust mixture into the base of your spring form pan until fully packed down.

Wrap the entire bottom and sides of the springform pan with tin foil to avoid any leaks during the baking process. Keep the tin foil on the pan for the entire baking process.

Bake the crust for 10 minutes, take out and let cool while you make the filling.

Mix together all the ingredients for the cheesecake filling in your stand mixer. If you don't have a stand mixer you can also use a hand mixer. Beat the batter until it is very smooth and there are no lumps left (or very few!).

Pour the filling on top of the cooled crust in the spring form pan. Smooth out the top of filling with a spatula.

Put back in the oven and bake at 350 F for 1 hour and 45 minutes (105 minutes). When you take it out, it will still be a bit jiggly in the pan. This is normal and it will firm up once its cooled down.

Take off the tin foil wrapping (carefully with oven mitts!) and place the spring form pan on a cooling rack on the counter. Put fresh tin foil or parchment paper on the counter below the cooling rack to catch any additional drips.

Let cool for at least 1 hour on the counter. During this time your cheesecake will start to harden and will sink a bit in the pan. This is normal. Refrigerate for at least 2-3 hours (also with something underneath to catch potential drips) before you are ready to enjoy.

Once you are ready to eat it, run a knife in between the sides of the cake and the sides of the spring form pan to make sure the cake separates from the sides.

Take off the outer sides of the spring form pan and serve! Feel free to leave your cheesecake on the bottom of the spring form pan to keep it in tact.

Optional: top with whipped coconut cream and a pinch of nutmeg
Nutrition
Calories:
502
kcal
Carbohydrates:
54
g
Protein:
5.2
g
Fat:
31.2
g
Saturated Fat:
21.7
g
Polyunsaturated Fat:
1.6
g
Monounsaturated Fat:
2.1
g
Cholesterol:
46.5
mg
Sodium:
567.1
mg
Potassium:
100
mg
Fiber:
3.4
g
Sugar:
32.3
g
About the author Tara Klippert
Tara Klippert is a Registered Health and Nutrition Counselor and holds a diploma in Holistic Nutrition and Health Coaching. She shares her gluten free, dairy free & allergy friendly recipes.