You might be wondering, why date syrup instead of other liquid sweeteners such as maple syrup, honey or agave syrup? Dates are actually quite nutritious. Aside from being high in antioxidants, they are also high in potassium, magnesium, copper, manganese, iron and vitamin B6. And honestly, they are just a fantastic natural sweetener that you can use in a number of different recipes and dishes. Read more about the health benefits of dates.
Recipe ingredient substitutions
Date substitutions: There are about a million different types of dates, but medjool dates are the most commonly found and used. This recipe will work with any type of date though, so feel free to swap it out if you aren't able to find the medjool variety.
Filtered water substitutions: If you don't have access to filtered water, you could also use tap water, alkaline water, bottled water or distilled water.
Recipe pairings
Date syrup is an easy substitute in any recipe or dish that you would use other syrups such as maple syrup, table syrup, blackstrap molasses, agave nectar, brown rice syrup etc. But here are a few ideas!
Pour it over ice cream
Pour it on french toast or pancakes
Use it in your energy ball or granola bar recipes
Put it in your oatmeal or any other hot cereal
Add a bit to salad dressings to give them some sweetness. A simple dressing could be olive oil, lemon juice, oregano, garlic powder, onion powder, and a bit of date syrup.
It's caramel-like flavor can replace things like honey in recipes that call for liquid natural sugar.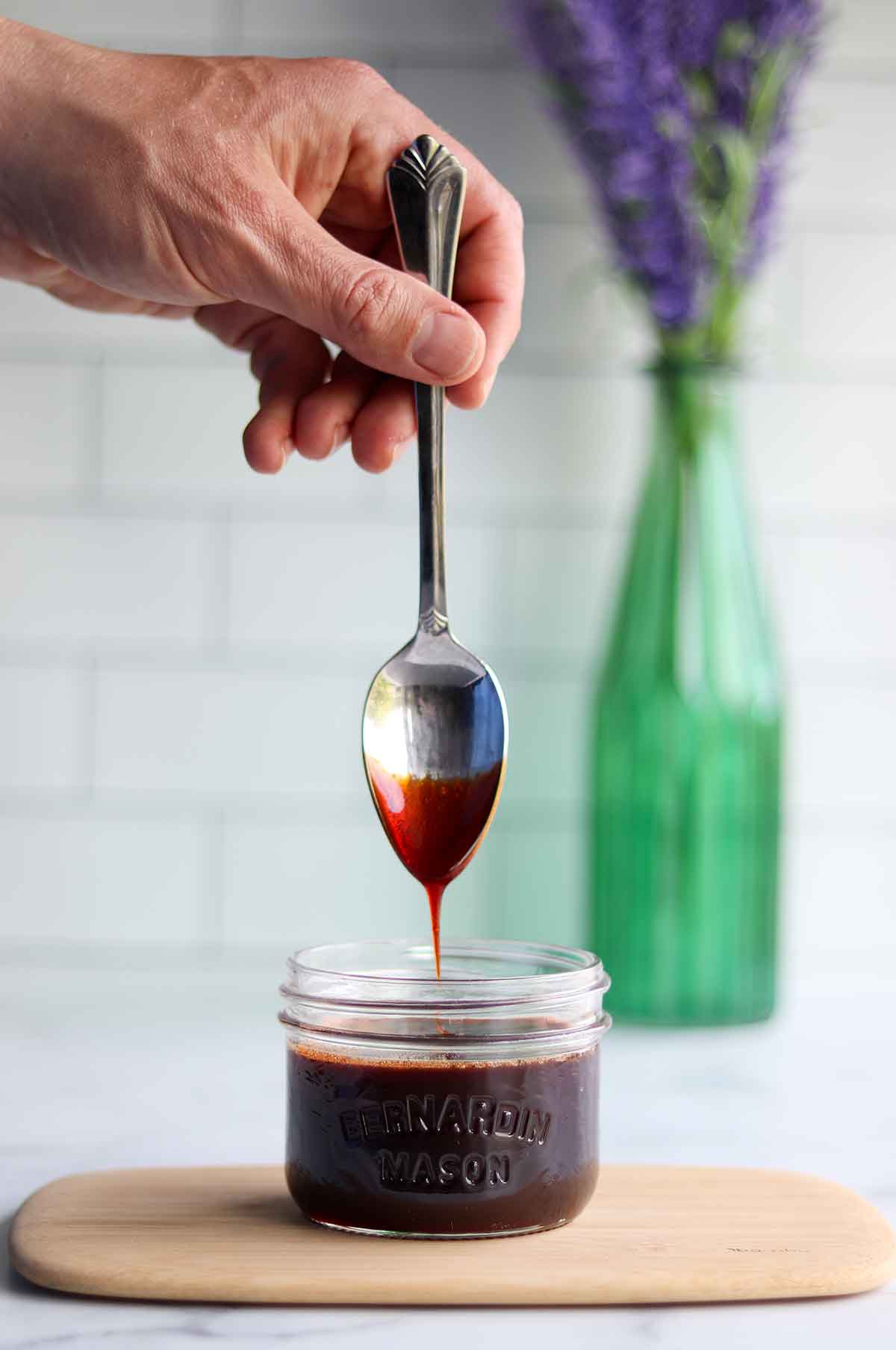 Storage tips
Store it in an airtight container, glass jar or Mason jar with lid in the fridge. Because the only ingredients are dates and water, it should last in the fridge for up to a couple months at least.
Frequently asked questions
What is date syrup made of?
Date syrup requires only two ingredients to make: pitted dates and water.
Is date syrup healthy?
Date syrup is a great alternative to refined sugar or artificial sweeteners. Dates are rich in many minerals as well as antioxidants. However, dates are still very high in carbohydrates and thus can still impact your blood sugar the same way any other sweetener would. So use accordingly!
What can I use date syrup for?
Date syrup can be used in any of your favourite recipes that call for a liquid sweetener such as maple syrup, honey or agave syrup. You can drizzle it on ice cream, put it in your smoothies or oatmeal, use it in a salad dressing, or even in a homemade barbecue sauce.
Is date syrup considered low carb?
Unfortunately, even though it has less sugar than some sweeteners it's still way higher in carbohydrates than what's usually considered acceptable for these types of diets.
Tried my date syrup recipe?
Please leave me a rating and review below, and post a picture of the dish to Instagram and tag me at @foodsnfeels 🙌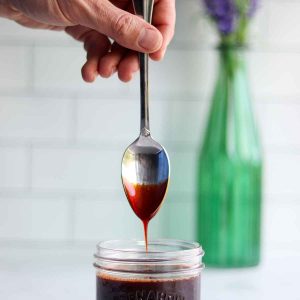 Homemade date syrup recipe
Date syrup is a great alternative to other liquid sweeteners that you can use in any of your favourite recipes.
Ingredients
680

grams

fresh dates (pitted)

(24 ounces)

6

cups

filtered water
Instructions
In a large pot on the stove, add your pitted whole dates and 6 cups water. Set your burner to medium heat until it starts simmering, and then lower it to the lowest setting possible.

Simmer your dates and water, covered, for roughly 1 hour. At this point the dates should be getting super soft and the liquid should be golden brown in colour.

Take your pot off the stove and put it on a cooling rack. Let your cooked dates and water cool down to room temperature. This took roughly 2 hours for me. You can speed this up by putting it in the fridge.

Put your water and date mixture into a food processor or high-speed blender and blend for about 30 seconds or until the dates are in very small pieces. If you blend it for too long, it will turn into date paste and will be harder to strain. Alternatively instead of blending it up, you can use a potato masher to break down the dates.

Place your mesh strainer on top of a large bowl and put your nut milk bag inside of it. While holding your nut milk bag open, pour your blended date and water mixture completely into the nut milk bag. Once it's all in, start squeezing your nut milk bag until liquid starts coming out the sides and bottom. This will drain through your mesh strainer and into the large bowl. The mesh strainer will catch any chunks that may come out the top of the bag. Do this until you aren't able to squeeze any more remaining liquids out.

Remove the strainer and bag from the large bowl of liquid.

Rinse out your large pot so there are no remaining chunks of date and pour the liquid from your large bowl back into the pot.

Once again gently simmer on low heat for roughly 1 hour or until it starts reducing and getting thicker. Make sure to use the lowest setting so that it doesn't burn. Your date syrup will also thicken more once you have taken it off the burner.

Place your pot of date syrup back on a cooling rack and let it cool completely again. At this point you can pour it into a glass container or Mason jar and store it in the fridge.
Notes
The nutritional information is based on 1 tablespoon of date syrup.
Above in the blog post I provide recipe ingredient substitutions, storage tips and frequently asked questions. 
Nutrition
Serving:
1
tbsp
Calories:
60
kcal
Carbohydrates:
16
g
Protein:
0.5
g
Fat:
0
g
Saturated Fat:
0
g
Polyunsaturated Fat:
0
g
Monounsaturated Fat:
0
g
Trans Fat:
0
g
Cholesterol:
0
mg
Sodium:
0.5
mg
Potassium:
140
mg
Fiber:
2
g
Sugar:
13
g
Disclaimer: This recipe post contains Amazon affiliate links. This means that if you click on a link and make a purchase, I will receive a small commission (at no extra cost to you). This helps support me so that I can continue to put out high quality, free recipes for you guys! Thank you 😁🙌