This olive oil mayo recipe makes it simple and cheap to make your own and the result tastes impressively similar to regular mayo!
I have a serious problem with over-consuming mayonnaise, especially since cutting dairy out of my diet! I know I'm not alone – I mean, let's be real – mayo is just amazing and goes with everything.
Generally, grocery store mayonnaise is made with canola oil, rapeseed oil, sunflower oil, grapeseed oil or soybean oil or a combination of other vegetable oils.
So, to feel less guilty about my mayo intake – and to avoid inflammatory oils – I've been making my own mayonnaise with light tasting olive oil. I also use an extra egg yolk to give it a rich and tasty feel. Read more about vegetable and seed oils and your health.
Olive oil is highest in monounsaturated fats of all the vegetable oils, and is shown to be anti-inflammatory and high in antioxidants. Read more about the benefits of olive oil.
Recipe substitutions
Use full flavoured extra virgin olive oil instead of light tasting olive oil: If you prefer the full-bodied flavour of extra virgin olive oil, feel free to swap it out. I chose light tasting olive oil for this recipe because of its mild flavour and similarity to other vegetable and seed oils generally used to make mayonnaise – so just be aware that using extra-virgin olive oil will produce a mayonnaise with a much stronger taste. However, extra virgin oil is less processed and therefore is less likely to be unstable and inflammatory.
Use other oils: For this recipe, you can also use avocado oil or a blended oil such as Chosen Foods avocado, coconut and safflower oil. I have made this recipe with Chosen Foods oil before and it turned out fantastic. I don't recommend using coconut oil because it is hard at room temperature because it is high in saturated fats. You could potentially try using a liquid coconut oil but I have never tried it myself.
White vinegar substitutions: You can use any other type of vinegar in this recipe such as white wine vinegar or apple cider vinegar. You can also use fresh squeezed lemon juice instead of vinegar.
Garlic powder substitutions: Instead of garlic powder, you can use fresh garlic cloves. Depending how much garlic flavour you want, I would start with 1 garlic clove and work your way up.
Dietary modifications
Make this recipe candida diet friendly: Use fresh squeezed lemon juice instead of vinegar, or omit the vinegar altogether.
Make this recipe low histamine: Omit the vinegar and do not replace it with lemon juice. Instead of using garlic powder, use a fresh garlic clove.
Make this recipe low FODMAP: Omit the garlic.
Recipe pairing ideas
Oh mayonnaise, you taste good with everything.
Use it on a sandwich or lettuce wrap
Use it as a base for another sauce such as ranch sauce, aioli or a creamy salad dressing
Serve it with homemade sweet potato fries
Use it in an egg, chicken or tuna salad
Use it to make potato salad
Eat it straight (just kidding… but the options are endless! 😬😆)
Recipe FAQs
Why did the oil and egg yolk separate and the mayonnaise not thicken up?
If your mayonnaise did not thicken up and the egg yolk and oil started separating the first time, it's likely because you didn't blend your egg yolks for 30 seconds – 1 minute first before starting to add your oil, OR you poured the olive oil in too quickly at the start. When you first start pouring the oil into the egg yolks while the blender is going, it is very important to drizzle it very slowly at first until it starts emulsifying and thickening, at which point start to drizzle it in faster. This process of thickening can take some time, so be patient.
Can I use a blender instead of a food processor?
You can absolutely use a blender to make this mayonnaise recipe, however you'll want to make sure that your egg yolks, vinegar and salt at least cover the first blade in your blender. If not, when you turn your blender on it won't start whipping the egg yolks, and may lead to issues later on with emulsifying the egg yolk and oil together. Trust me, I am telling you this from experience! 😆
Does olive oil mayo taste different?
If you use light (or mild) tasting olive oil, it really won't taste much different than store-bought mayonnaise which is generally made with canola or soybean oil. If you use full flavoured extra-virgin olive oil though, the mayonnaise will have a stronger and more bitter taste so it will be different than the mayonnaise you are used to.
Tried my homemade mayonnaise recipe?
Please leave me a rating and review below, and post a picture of the dish to Instagram and tag me at @foodsnfeels 🙌
Looking for more paleo recipes?
Grab my free seven day paleo meal plan. Or if you are looking for more, check out my one month paleo meal plan and recipe book which comes with 140 additional recipes for breakfast, lunch, dinner and desserts/snacks.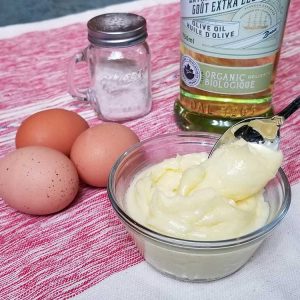 Homemade Olive Oil Mayonnaise Recipe (Paleo)
This recipe is gluten free, dairy free, and soy free.
Instructions
Crack your whole eggs into a small bowl, and separate out the egg white from the egg yolks. Discard the egg whites or save them for cooking something else.

Put everything except for the oil in a blender or food processor and blend on low for about 30 seconds to 1 minute.

Then while still blending, start to slowly (and I mean seriously slow!) drizzle the olive oil in until it starts to thicken up. This can take some time so be patient.

Once you can see it start to thicken, you can speed up the rate at which you pour the oil in until it's all in there. And that's it!

Store in the fridge and eat within 1 week.
Notes
This olive oil mayonnaise recipe produces approximately 20 tbsp of mayo. Each serving size is 1 tbsp.
I have not tested this recipe with an immersion blender / stick blender / hand mixer. I do imagine though that the process would be pretty much the same. If you do try it out, let me know in the comments how it works!
Nutrition
Serving:
20
g
Calories:
105
kcal
Carbohydrates:
0.1
g
Protein:
0.4
g
Fat:
11.9
g
Saturated Fat:
1.8
g
Polyunsaturated Fat:
1.7
g
Monounsaturated Fat:
8.3
g
Trans Fat:
0
g
Cholesterol:
27.6
mg
Sodium:
59.4
mg
Potassium:
3.8
mg
Fiber:
0
g
Sugar:
0
g
Disclaimer: This recipe post contains Amazon affiliate links. This means that if you click on a link and make a purchase, I will receive a small commission (at no extra cost to you). This helps support me so that I can continue to put out high quality, free recipes for you guys! Thank you 😁🙌