This healthy beef and broccoli recipe is fast and easy to make, and includes simple ingredients. It is gluten-free, dairy free, soy free, paleo, low carb and keto.
This delicious recipe is one that the whole family will enjoy and is one of my favourite dishes to make when I'm looking for a 15 minute meal.
Below I provide recipe ingredient substitutions and dietary modifications, as well as answers to frequently asked questions.
Recipe Ingredient substitutions
Striploin steak substitutions: In this recipe I used striploin steak, but the best beef to use in a traditional beef and broccoli dish is flank steak. But honestly, you can really use any type of beef cut that you like such as skirt steak, tenderloin steak or sirloin steak. If you want, you can even use ground beef!
Fresh garlic clove substitutions: Instead of using fresh garlic cloves, swap it out for 1 teaspoon of garlic powder.
Fresh ginger substitutions: Instead of dicing up fresh whole ginger, swap it out for 1 teaspoon of powdered ginger.
Fresh green onion substitutions: Instead of 1 bunch of fresh green onions, swap it out for 1 tablespoon of freeze-dried chives.
Coconut aminos substitutions: If you tolerate soy, you can swap out the coconut aminos for gluten-free tamari or low-sodium soy sauce.
Toasted sesame oil substitutions: To get that really nice Asian flavor, I highly recommend using toasted sesame oil. But you can also use regular non-toasted sesame oil. It just won't be as flavorful.
Olive oil substitutions: Instead of olive oil, you can use avocado oil, vegan butter, coconut oil or any other cooking oil of choice.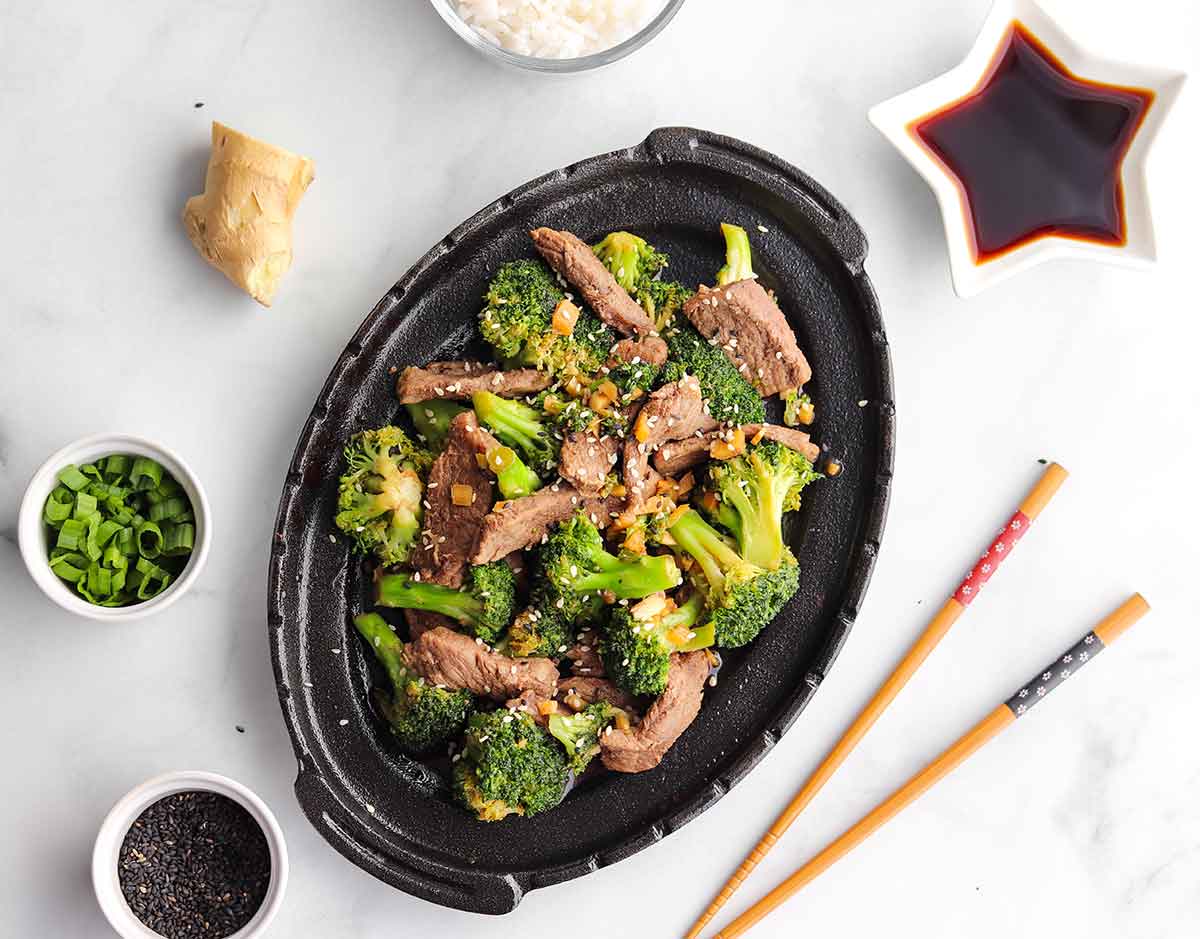 Recipe pairings
Cauliflower rice: Cauliflower rice is a great option for serving alongside your beef and broccoli dish. This is your best bet if you want to keep it keto and low carb.
White rice: If you are not concerned about keeping this low carb or paleo, it also serves really well with cooked white rice.
Sweet potato: Sounds a bit crazy but it's actually really tasty served with roasted sweet potato as well!
Dietary modifications
Make this recipe lower calorie: Choose a leaner cut of beef, and reduce the sesame oil to 1/8 cup.
Make this recipe candida diet friendly: Omit the coconut aminos since it is fermented.
Make this recipe AIP friendly: Omit the sesame oil and sesame seeds.
Make this recipe low FODMAP: Instead of using broccoli for this recipe, you can swap it out for bok choy. Omit the garlic or reduce the amount you use.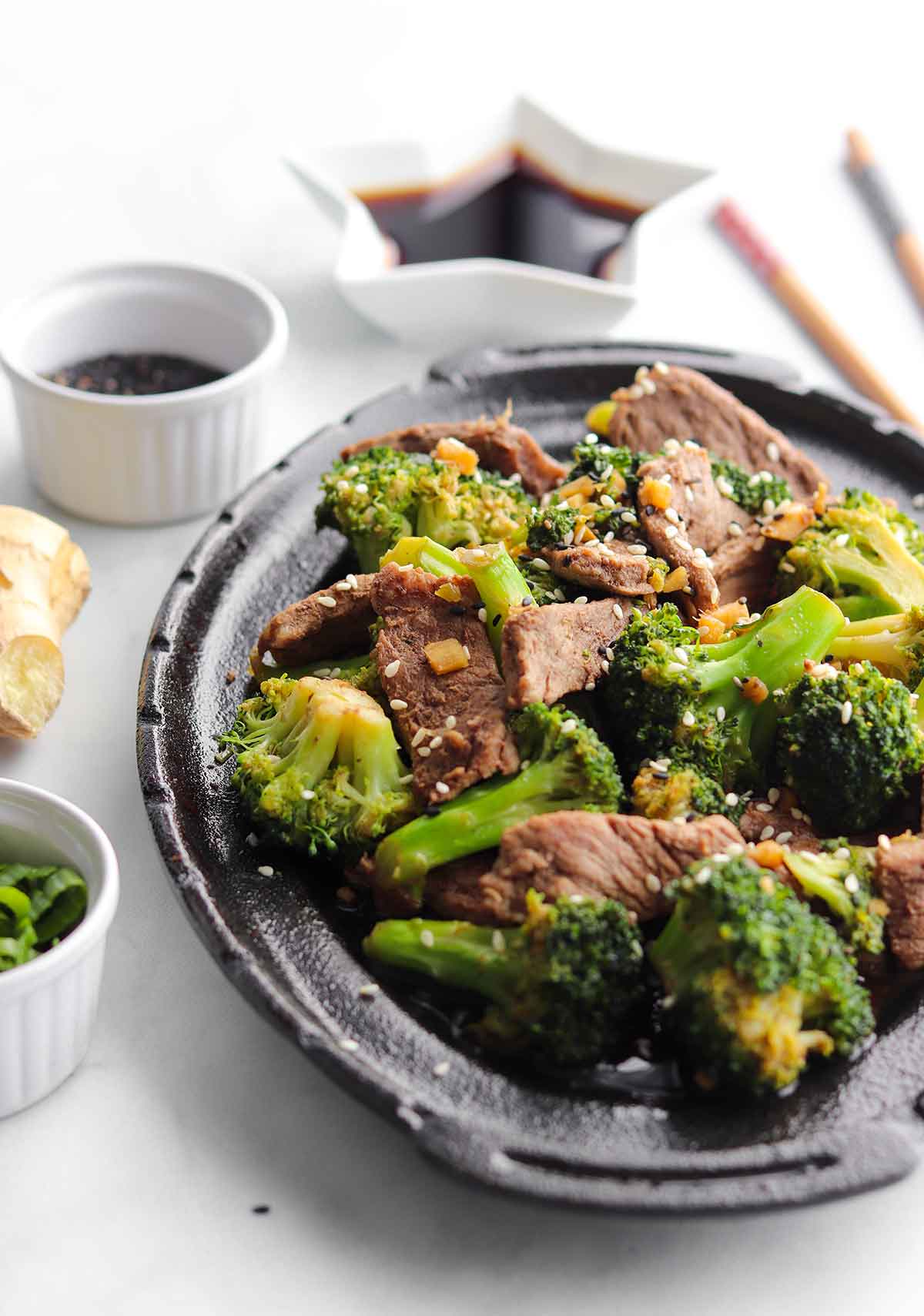 Storage tips
Store in an airtight container in the fridge and eat within 3 to 5 days. This broccoli stir-fry also freezes super well and is a great recipe for weekly meal prepping.
Frequently asked questions
Can you cook beef and broccoli in the slow cooker?
Beef and broccoli can easily be cooked in your slow cooker instead of frying it in a skillet. Simply add your sliced beef and place broccoli florets along with your diced garlic, ginger, and green onions into your slow cooker. Add your olive oil, sesame oil, coconut aminos and give everything a stir. Cook it on low for roughly 4 hours, checking often to make sure it's not burning or sticking to the bottom. Add more coconut aminos if it is.
What can I use to thicken the stir fry sauce?
If you want your sauce to be thicker, consider adding 1 tablespoon of either tapioca flour or arrowroot flour. To do this, whisk it into your coconut aminos before adding it to the skillet. Stir frequently until your sauce has thickened. It shouldn't take long.
Tried my beef and broccoli stir fry recipe?
Please leave me a rating and review below, and post a picture of the dish to Instagram and tag me at @foodsnfeels 🙌
You might also like:
If you liked this recipe, check out my other paleo beef recipes: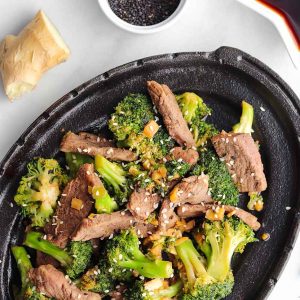 Healthy Beef and Broccoli (Gluten Free, Paleo & Keto)
This healthy beef and broccoli recipe is fast and easy to make, and includes simple ingredients. It is gluten-free, dairy free, soy free, paleo, low carb and keto.
Instructions
Cut up your beef into small strips. Dice your broccoli, garlic, ginger and green onions.

In a large skillet over medium heat, fry your beef slices until starting to brown and cooked to your liking. If your beef strips are sticking to the pan, you can add a little bit of olive oil. Remove and set aside in a bowl.

In 1 tablespoon of olive oil, fry your fresh broccoli florets on low heat for roughly 5 minutes.

Then add your sesame oil, coconut aminos, ginger and garlic and continue sautéing until your broccoli starts getting soft.

Add your cooked beef back into the skillet and mix everything together.

Serve with additional coconut aminos and sesame oil at the end if you want to add some extra flavour!
Notes
Above in the blog post I provide recipe ingredient substitutions and variations.  
I also provide dietary modifications, storage tips and frequently asked questions.
Nutrition
Calories:
391
kcal
Carbohydrates:
12
g
Protein:
27
g
Fat:
27
g
Saturated Fat:
8
g
Polyunsaturated Fat:
4
g
Monounsaturated Fat:
4
g
Trans Fat:
0
g
Cholesterol:
90
mg
Sodium:
375
mg
Potassium:
430
mg
Fiber:
3.5
g
Sugar:
5
g
Disclaimer: This recipe post contains Amazon affiliate links. This means that if you click on a link and make a purchase, I will receive a small commission (at no extra cost to you). This helps support me so that I can continue to put out high quality, free recipes for you guys! Thank you 😁🙌