This gluten-free meatball recipe is fresh, colorful and easy to make. It's also dairy free, sugar free, low oxalate and candida diet friendly.
Below I provide detailed instructions on making this Greek meatball recipe, options for ingredient substitutions, as well as directions on making it paleo/low carb, low FODMAP, AIP, lower oxalate, and lower calorie.
These meatballs are great on their own, or you can make them into Greek inspired meatball subs by eating them between some toasted gluten free garlic bread and your favorite toppings.
Product brands I recommend for this recipe
Robin Hood gluten-free flour
Kikkoman gluten-free panko breadcrumbs
Recipe substitutions
Gluten-free flour substitutions: Instead of using a gluten-free flour blend, you can use white or brown rice flour, or any other gluten-free flour of your choice. Gluten-free breadcrumbs will also work if you can't find gluten free panko to keep things nice and tender.
Gluten-free panko substitutions: Instead of panko, you can also use regular gluten-free breadcrumbs, or even crushed up gluten-free crackers.
Beef and pork substitutions: Instead of using a combination of ground beef and ground pork, you can swap out your meat mixture for ground chicken or ground turkey, or any other combination. If you use a leaner ground meat, just make sure to add some extra fat like olive oil to the mix so they don't burn or dry out. No one likes a dry meatball!
Dried herb substitutions: Feel free to swap out any of the dried herbs for fresh herbs. If you are using fresh, use double the amount that the recipe calls for. I highly suggest getting fresh mint for the coconut yogurt dip, it adds extra flavor and is delicious.
Garlic powder substitutions: Instead of powdered garlic powder, you can swap it out for 1 fresh garlic clove. Onion powder is also an option if you don't like garlic.
Meatball flavor alternatives: You can swap out the Greek herbs for Italian seasoning and some dairy free parmesan cheese for a different flavor kick. Italian meatballs are the best meatballs after all and they go great with tomato sauce and gluten-free pasta. Use whatever you have in your house or garden already – dried basil, black pepper, fresh parsley, onion, dried oregano, or chili flakes. The only way to screw up a flavorful meatball is to not add enough seasoning, or drying it out! Juicy meatballs are key.
Recipe variations
Make this recipe lower calorie/fat: Make sure to get lean ground beef, or swap out the ground meat for ground chicken or turkey or a combination of both. You could also consider cutting down the amount of gluten-free panko breadcrumbs and gluten-free flour.
Make this recipe paleo/low carb: Omit the gluten-free panko breadcrumbs and flour, and instead use either cassava flour, a small amount of tapioca starch or a low carb thickener. For low carb, you could also add one egg to help the meatballs stick together and omit some of the crumbs or flour. For keto meatballs, leave the out the starch all together or switch to almond flour.
Make this recipe AIP: Omit the gluten-free panko breadcrumbs and gluten-free flour, and instead use cassava flour or a small amount of tapioca starch.
Make this recipe low FODMAP: Omit the garlic powder.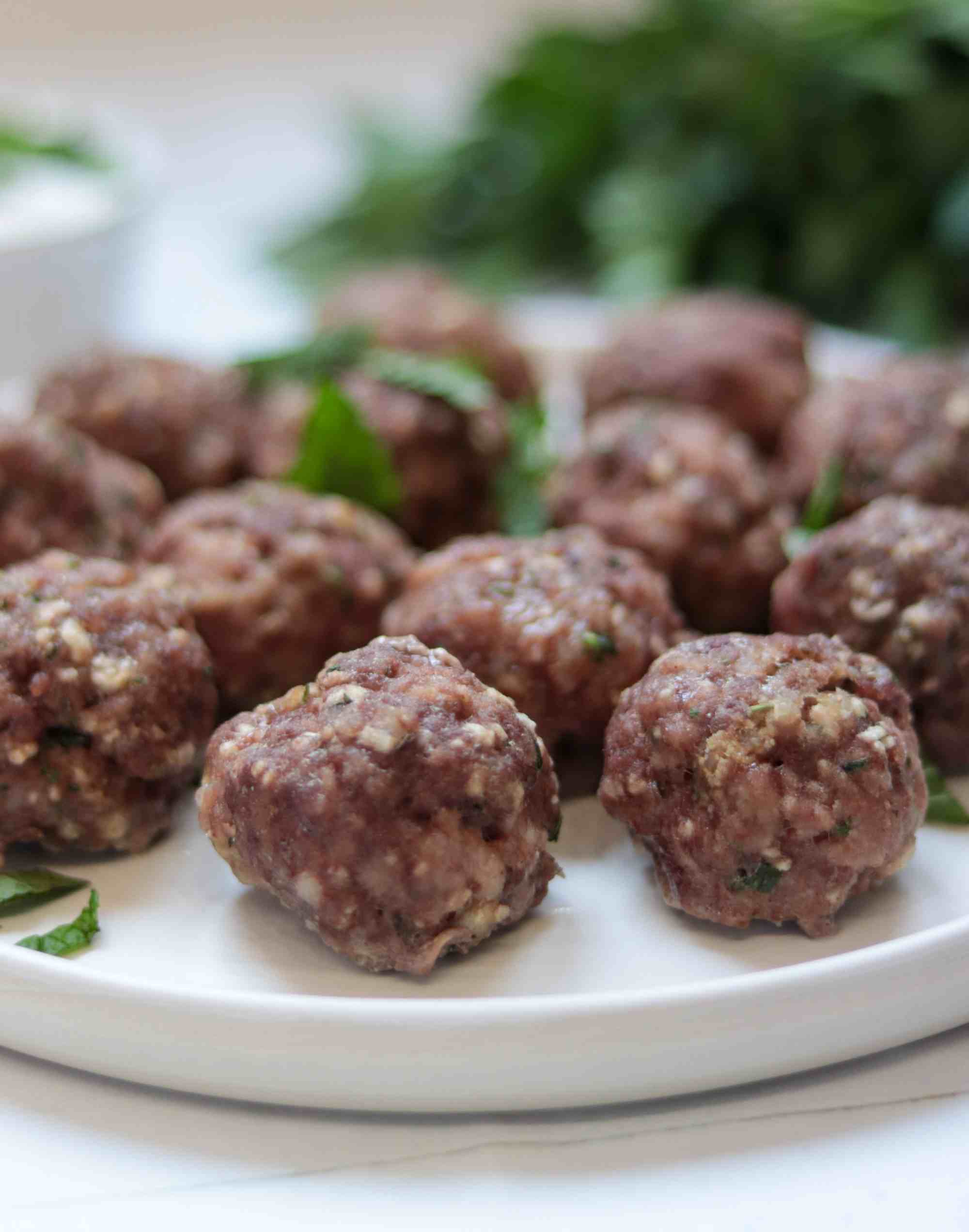 FAQ
Can I make this in a slow cooker or instant pot? Yes! In a slow cooker, line the bottom with meatballs and cook for 4 hours on high heat. In an instant pot, add some broth to the bottom and use a rack to keep the raw meatballs elevated above the liquid. Cook on high for 10 minutes and slow release the pressure for 5.
Can I make these on the stove top? Again yes, add a bit of oil to the bottom of a frying pan, large skillet, or pot and cook the meatballs on medium heat until they're brown and cooked through. This is the classic way to cook meatballs and probably has the best flavor but also takes the most work.
Can I make these in an air fryer? Yeppers. Cook at 400 for 14-16 minutes.
Any way to make this recipe easier? If you've got a big enough food processor or stand mixer with the right attachments you can put all the ingredients in there and have the machine create the meatball mixture. My favorite way of cooking is to avoid as much of the work as possible!
Tried this recipe?
Please leave me a rating and review below, and post a picture of the dish to Instagram and tag me at @foodsnfeels 🙌
Gluten Free Greek Meatball Recipe
These oven baked greek meatballs are fresh, colourful and easy to make. They are gluten and dairy free, sugar free, low oxalate and candida friendly.
Instructions
Preheat your oven to 350°F.

Empty the ground pork and beef into a large mixing bowl.

Measure out all of the herbs and seasonings and add them to the bowl.

Once all the seasonings are thoroughly mixed in, add the gluten-free panko breadcrumbs and gluten-free flour and mix well.

Form into roughly 29 meatballs and place on baking sheets lined with parchment paper in a single layer.

Bake your meatballs for 20 to 25 minutes or until cooked through and starting to brown nicely.

Serve with coconut yogurt topped with freshly diced mint.
Nutrition
Serving:
1
meatball
Calories:
84
kcal
Carbohydrates:
2
g
Protein:
5.6
g
Fat:
6
g
Saturated Fat:
2
g
Polyunsaturated Fat:
0
g
Monounsaturated Fat:
0
g
Cholesterol:
21.5
mg
Sodium:
196
mg
Potassium:
0
mg
Fiber:
0.2
g
Sugar:
0
g
Disclaimer: This recipe post contains Amazon affiliate links. This means that if you click on a link and make a purchase, I will receive a small commission (at no extra cost to you). This helps support me so that I can continue to put out high quality, free recipes for you guys! Thank you 😁🙌