If you've found this recipe, you're probably looking for that classic tuna noodle casserole from childhood but aren't into gluten or dairy. This clean ingredients version is a family favorite in my house!
This recipe will satisfy that craving for the classic comfort dish you used to know. It is also sugar free, low-medium oxalate, and candida diet friendly.
This recipe is also great for meal prep. After cooking, let cool and freeze your leftover pasta so that it's ready to go for next time! For me, having prepared meals is the best way to keep myself on track.
Below I provide detailed instructions on making this easy dairy free tuna casserole, options for ingredient substitutions, as well as directions on making it vegan, Low FODMAP and lower calorie.
Product brands I recommend for this recipe
Rizopia brown rice pasta
Coconut Dream coconut milk
Kinnikinnick gluten-free panko style breadcrumbs
Nutiva butter flavoured coconut oil
Bob's Red Mill potato starch
Earth Island vegan parmesan
Real Salt
Safe Catch wild albacore tuna
I found all of these products at my local grocery store. There's a bit of extra additional cost but you get what you pay for!
Recipe substitutions:
Gluten-free panko breadcrumbs substitutions: Instead of using a panko style gluten-free breadcrumb, you can also use any other gluten-free breadcrumb alternative, or even crumbled up potato chips.
Non-dairy milk substitutions: Instead of using coconut milk, you can use any other type of dairy free milk such as unsweetened cashew milk or almond milk. Or instead of using plant-based milk, use vegetable broth instead. Or, if you can handle dairy, use a can of cream of mushroom soup for that traditional tuna noodle casserole taste.
Butter flavoured coconut oil substitutions: Instead of butter flavoured coconut oil, you can use regular coconut oil, a vegan butter substitute, olive oil, or any other cooking oil of your choice.
Brown rice pasta substitutions: Instead of using brown rice pasta, you could also use white rice pasta (for lower oxalate), or any other gluten-free pasta. If you can't find macaroni style noodles, you could also use egg noodles or any other pasta of choice (except for maybe spaghetti noodles, that could be weird). Pick whatever gluten-free noodles float your boat!
Vegan parmesan cheese substitutions: If you aren't able to get vegan parmesan cheese, you could also use any other type of shredded vegan cheese (mozzarella or cheddar style). Alternatively, if you aren't into vegan cheeses, you can use nutritional yeast and/or lemon juice.
Chicken bone broth substitutions: Instead of homemade bone broth, you can also use store-bought broth or bouillon powder. Just make sure it doesn't have any wheat or gluten ingredients in it. If you are motivated to make your own bone broth though, check out my recipe for making it in a crockpot.
Potato starch substitutions: Instead of potato starch, you can also use tapioca starch, arrowroot starch or cornstarch. A gluten-free flour blend could also be used.
Fresh onion and garlic substitutions: Instead of fresh, you can also use powdered garlic powder or onion powder.
Tuna substitutions: Got a picky eater in your house that doesn't like tuna? Use your preferred lean source of protein so the whole family can enjoy it!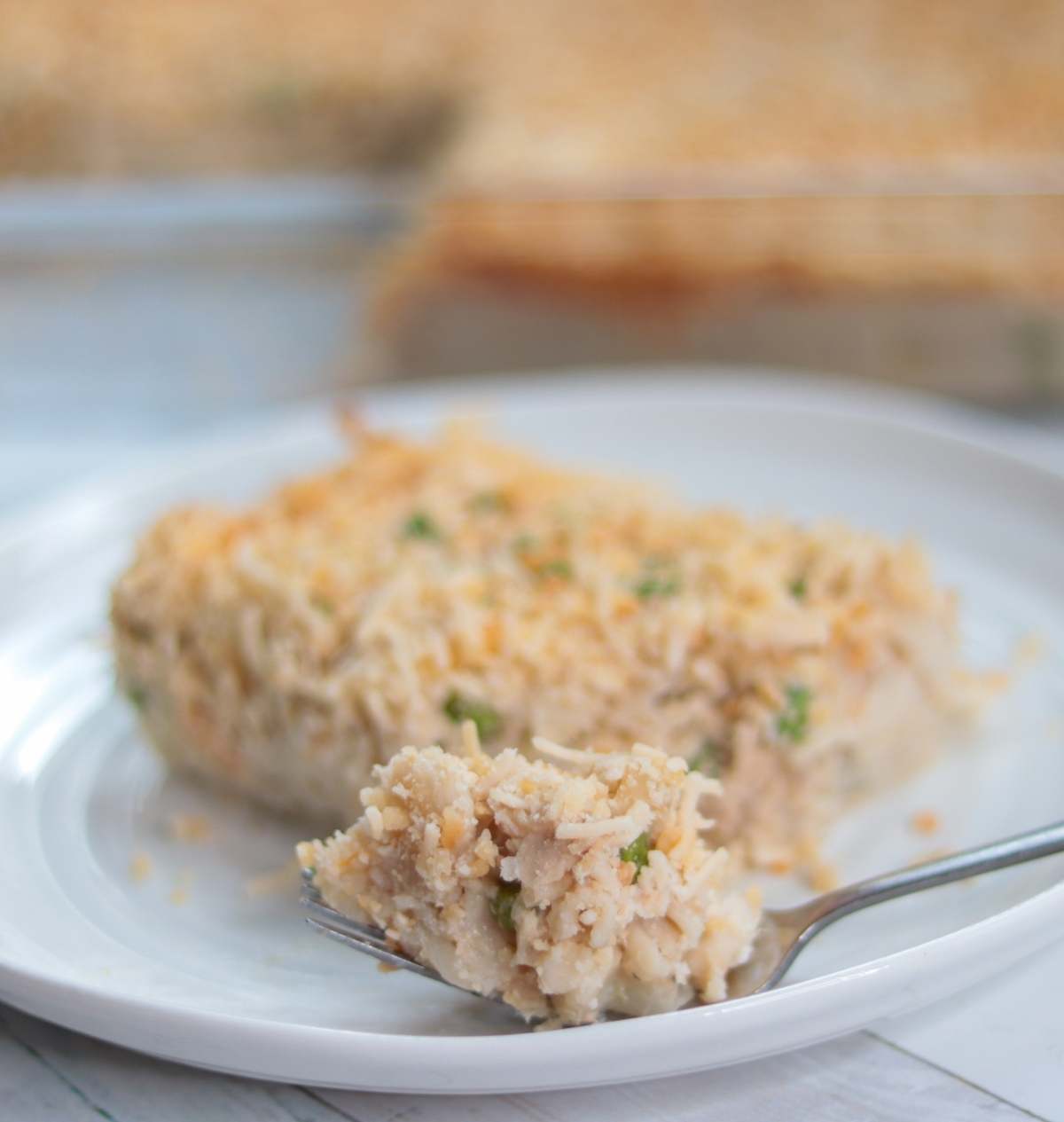 Recipe variations:
Make this recipe lower calorie/fat: Make sure to use unsweetened coconut milk that you get in tetra packs (not canned – these usually have more fat). Cut down the coconut oil to 2 tbsp.
Make this recipe low FODMAP: Omit the garlic and fresh onions.
Make this recipe lower oxalate: Use white rice flour pasta instead of brown. Make sure the gluten-free breadcrumbs are rice or corn-based and do not contain any other gluten-free grains as they tend to be higher in oxalates. Use potato or corn starch instead of tapioca, arrowroot or cassava. Use coconut milk and avoid nut based milks. Consider omitting the vegan parmesan depending on the ingredients.
Make this recipe vegan: For vegan tuna casserole, omit the fish and use your plant-based meat of choice. Enjoy your favorite comfort food cruelty free! There are many great options out there to make this healthy tuna noodle casserole a vegan favorite!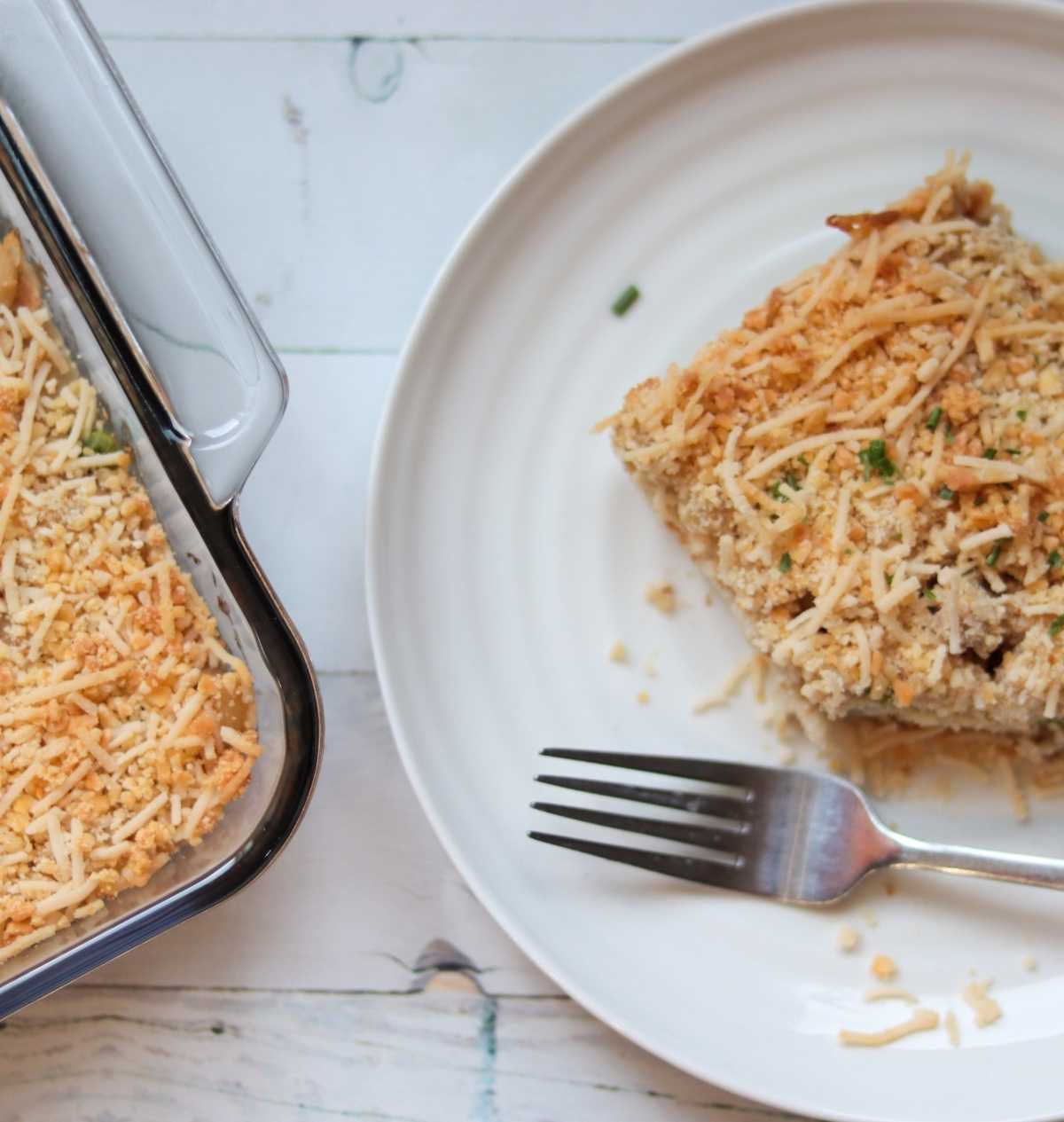 Storage tips
Portion out your casserole into individual containers and store in the fridge for 2 to 3 days. This dish also freezes really well and will keep for up to 6 months. Reheat in the microwave for 3-4 minutes or in the toaster oven for 10-15 on high.
Tried my healthier tuna noodle casserole recipe?
Please leave me a rating and review below, and post a picture of the dish to Instagram and tag me at @foodsnfeels 🙌
Tuna Noodle Casserole Recipe (Dairy & Gluten Free)
This gluten and dairy free tuna casserole recipe will satisfy thatcraving for the classic comfort dish you used to know. It is alsosugar free, low oxalate and candida diet friendly.
Ingredients
1

sweet onion

3

cloves

garlic

3/4

pound

brown rice macaroni noodles (about 3.5 cups)

use white rice noodles for low oxalate

1

cup

non-dairy parmesan

4

tbsp

butter flavored coconut oil

2

tsp

salt

3

tbsp

potato starch

2

cups

chicken bone broth

1

cup

unsweetened coconut milk

2

cans

wild albacore tuna

1

cup

frozen green peas
Instructions
Chop the onion and garlic.

Heat 2 tbsp coconut oil in a pot or large skillet on medium heat.

Add chopped onion and garlic to the pot and cook until they are starting to caramelize.

Add 3 tbsp potato starch to your caramelized onions and garlic and whisk until it's mixed in.

While whisking, add 2 cups chicken broth, coconut milk, and salt. Stir until it thickens into a creamy sauce.

Add the peas and tuna. Mix until combined.

In a separate bowl, add panko, vegan parmesan, and 2 tbsp melted coconut oil and mix to combine.

Preheat the oven to 425F.

Cook pasta as per package instructions, but drain 3 minutes early (it should be al dente as it will finish cooking in the oven).

Mix the pasta and sauce together and transfer to a greased 9 by 13 inch glass baking dish.

Cover the top evenly with the panko mixture.

Bake it for 17-20 minutes until the topping is golden.

Serve immediately and enjoy!

Store any leftovers to enjoy the next day.
Nutrition
Calories:
399
kcal
Carbohydrates:
5.8
g
Protein:
18.6
g
Fat:
11.1
g
Saturated Fat:
3.2
g
Polyunsaturated Fat:
0.9
g
Monounsaturated Fat:
4.1
g
Sodium:
661.7
mg
Potassium:
143
mg
Fiber:
3.2
g
Disclaimer: This recipe post contains Amazon affiliate links. This means that if you click on a link and make a purchase, I will receive a small commission (at no extra cost to you). This helps support me so that I can continue to put out high quality, free recipes for you guys! Thank you 😁🙌