Homemade cornbread is one of my guilty pleasures. It's an easy recipe that everyone can enjoy.
This gluten free and dairy free cornbread recipe comes out light, fluffy and golden brown and can be enjoyed with chili or soup, as a perfect side dish to any main course, or just as a snack. We all know warm cornbread is essential next to some slow cooked brisket or BBQ.
Fundamentally, cornbread is a simple recipe using simple ingredients from the pantry. It reminds me of good food and great times shared with family and friends.
Below I provide options for ingredient substitutions, as well as directions on making it vegan, lower calorie and lower sugar.
Product brands I recommend for this recipe
Robin Hood gluten-free flour
So Delicious coconut milk
Nutiva butter flavoured coconut oil
Purity cornmeal (or any other yellow cornmeal)
Real Salt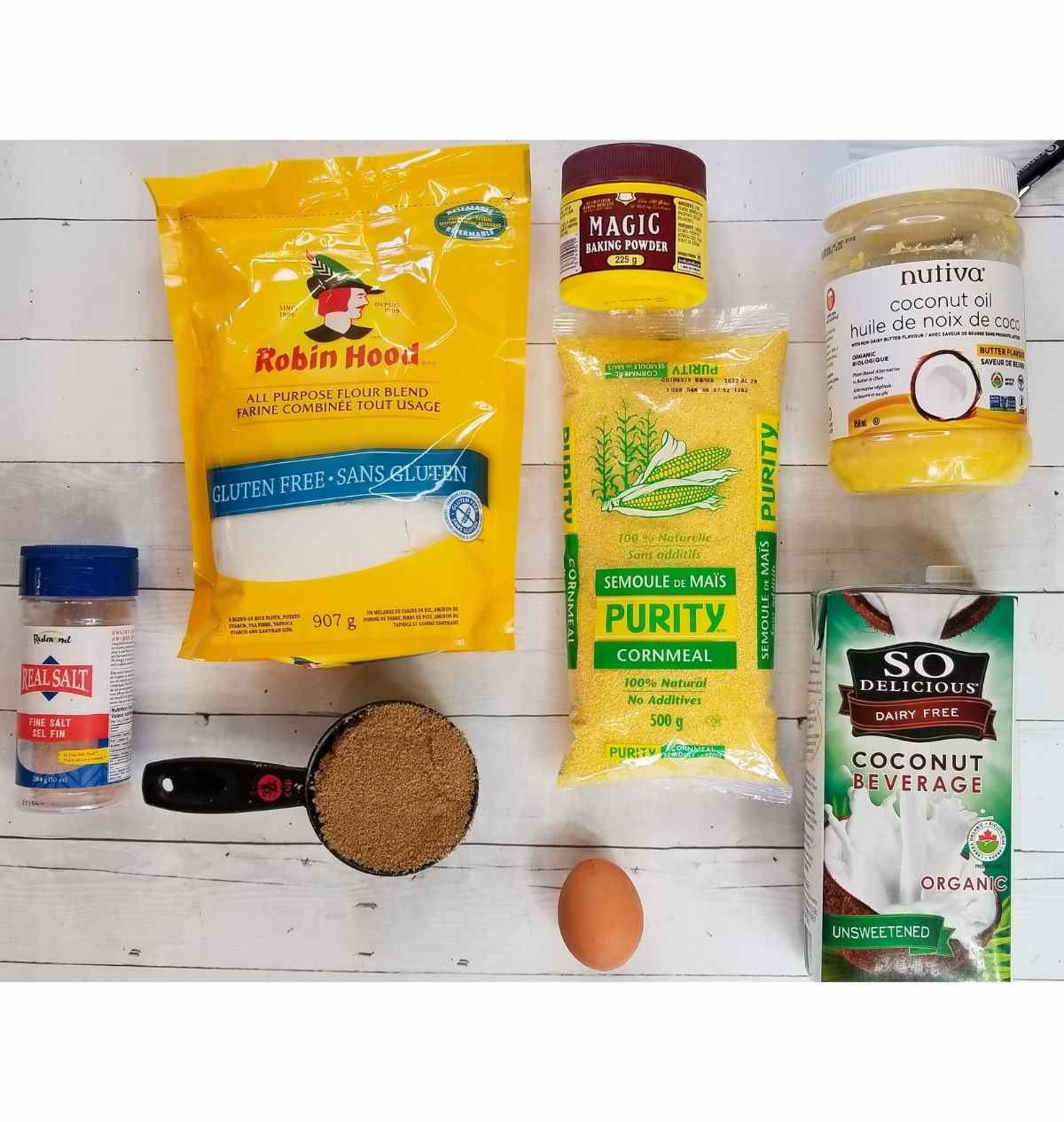 Recipe ingredient substitutions
Gluten-free flour substitutions: Instead of using one of the many gluten-free flour blends, you could also use any other type of gluten-free flour like rice flour, cassava flour, oat flour, chickpea flour or any of the other bean flours.. Depending on what you use, make sure to check online conversion charts because not all gluten-free flours convert 1 to 1.
Coconut milk substitutions: Instead of using coconut milk, you can use unsweetened almond milk or any other type of dairy-free milk like cashew milk, oat milk, etc.
Butter flavoured coconut oil substitutions: Instead of butter flavoured coconut oil, you can use regular coconut oil, a vegan butter substitute, regular butter, vegetable oil or any other cooking oil of your choice.
Brown sugar substitutions: Instead of using brown sugar, you can use white sugar, coconut sugar, or a low carb sugar substitute such as Swerve. I wouldn't suggest using liquid sweeteners such as maple syrup or honey as it will potentially throw off the wet to dry ingredients ratio and could affect the end result.
Egg substitutions: Instead of using a real egg, you can swap it out for a vegan egg substitution (flax egg, chia egg or gelatin egg).
Cornmeal substitutions: Instead of cornmeal, you can use corn flour, polenta, or corn grits.
Baking powder substitutions: Instead of 1 tablespoon of baking powder, use 1 teaspoon of baking soda.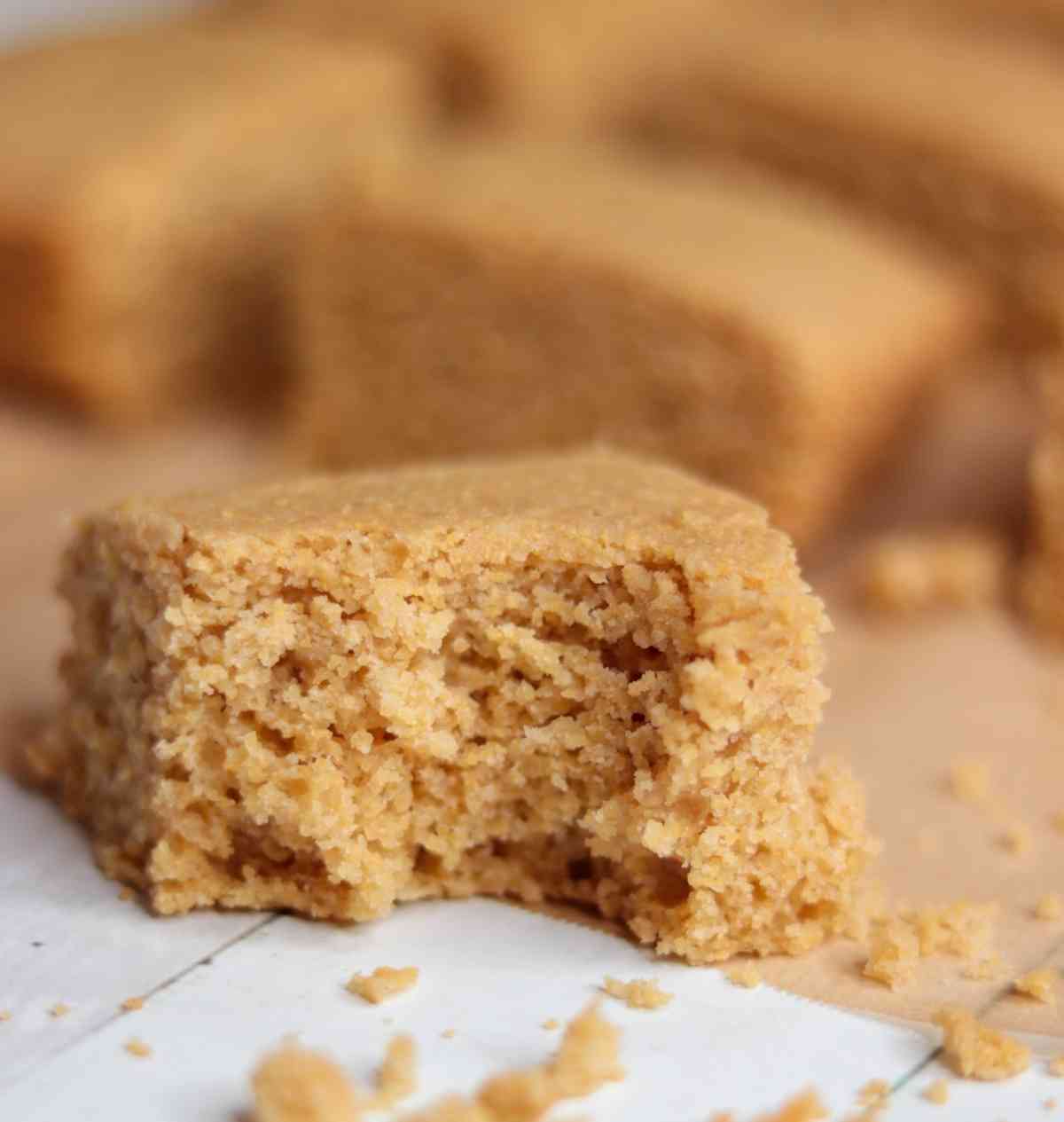 Recipe variations
Make gluten-free cornbread muffins: Portion out batter into a greased muffin tin instead of a baking dish to make this recipe into muffins. If you do this, start checking your cornbread muffins at the 20 to 25 minute mark. They will not take as long to bake as regular cornbread will.
Make it a savory cornbread: Add rosemary, lemon juice, or other herbs, spices, or flavors to turn this cornbread into a delicious savory side dish. Also consider reducing the amount of sugar in this recipe.
Dietary modifications
Make this recipe lower calorie/fat: Instead of using ⅓ cup of melted coconut oil, you can cut it down to 1 to 2 tablespoons and then top up the rest of the ⅓ cup with additional coconut milk or other non-dairy milk. Make sure to use a lower calorie, unsweetened coconut milk instead of the full fat canned coconut milk.
Make this recipe lower sugar: If you want a less sweet cornbread, instead of ⅔ cup of brown sugar, you can cut it down to ⅓ cup and top the rest up with gluten-free flour. Alternatively, to make this recipe sugar-free, replace the entire ⅔ cup of sugar with gluten free flour or substitute it for stevia or Swerve.
Make this recipe vegan: Replace the egg with one vegan egg substitute such as chia, flax or gelatin.
Make this recipe lower oxalate: Instead of using a gluten-free flour blend, use pure white rice flour. Make sure to use coconut milk instead of other dairy free milks.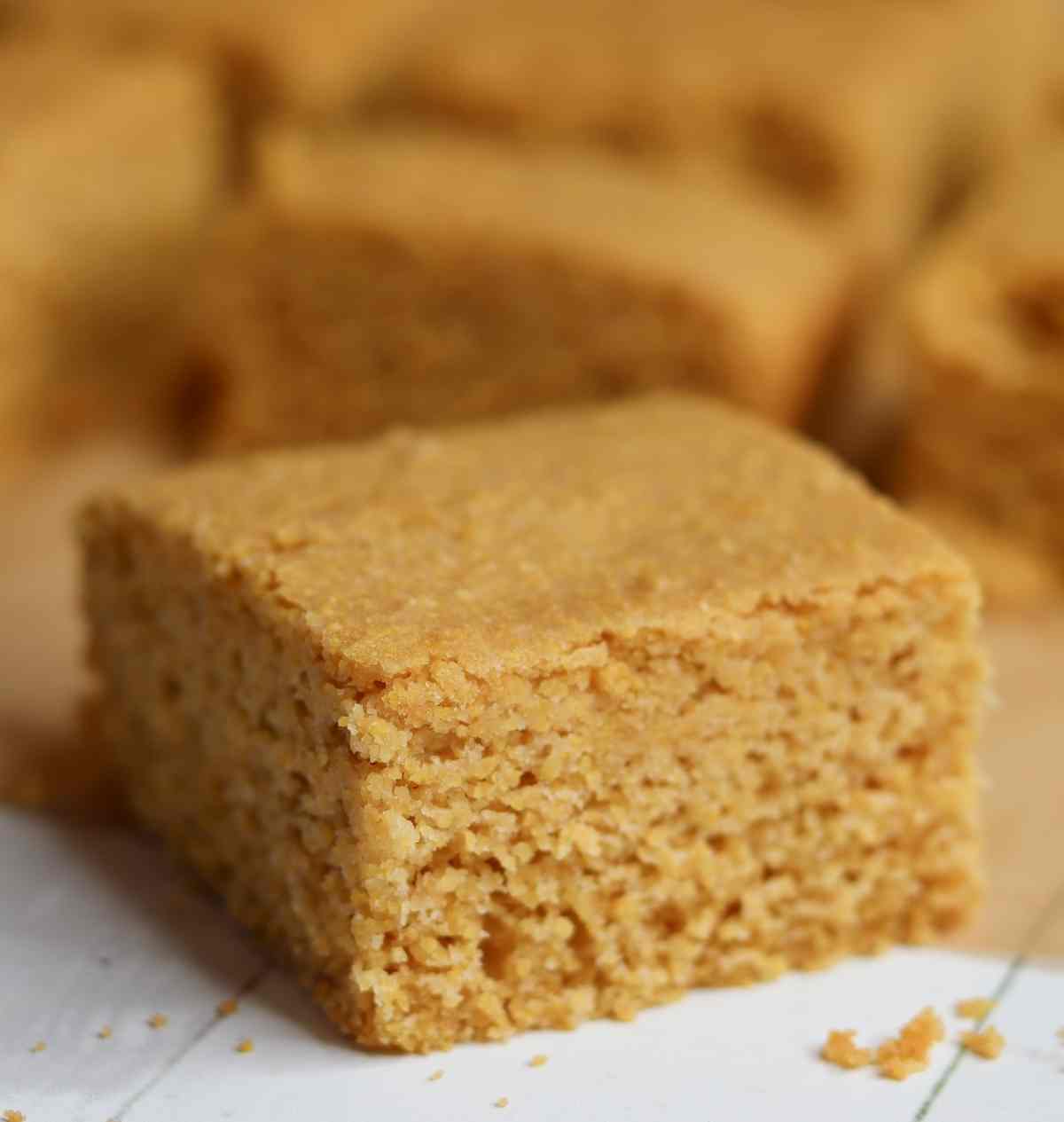 Recipe pairings
This cornbread recipe tastes great with:
homemade stew or soup
bbq or brisket
a drizzle of honey on top
butter, vegan or regular
Tried my homemade gluten-free cornbread recipe?
Please leave me a rating and review below, and post a picture of the dish to Instagram and tag me at @foodsnfeels 🙌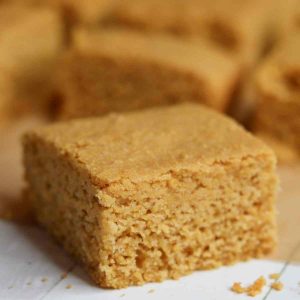 Cornbread Recipe (Gluten & Dairy Free)
This gluten free dairy free cornbread recipe comes out light, fluffy and golden brown and can be enjoyed with chili or soup, as a side dish to any main course, or just as a snack.
Instructions
Preheat your oven to 350 F.

In your KitchenAid stand mixer or a large bowl, mix together all of the dry ingredients.

Add the melted coconut oil and while mixing on low, add the remainder of wet ingredients (including egg and coconut milk) until everything is mixed together and the batter is smooth.

Grease your 9 x 9" glass baking dish with coconut oil.

Using a spatula, pour batter into your greased dish.

Bake for 30 to 35 minutes for the perfect texture or until starting to get golden on top and a toothpick comes out clean.

Let cool on a rack and serve at room temperature.

Cover any leftovers with plastic wrap or in an airtight container and store in the fridge for up to 1 week. This cornbread freezes really well and will keep in the freezer in an airtight container for 3 to 6 months.
Nutrition
Serving:
1
serving
Calories:
257
kcal
Carbohydrates:
40.4
g
Protein:
3.4
g
Fat:
9.5
g
Saturated Fat:
9
g
Polyunsaturated Fat:
0.1
g
Monounsaturated Fat:
0.2
g
Cholesterol:
20.7
mg
Sodium:
416.5
mg
Potassium:
24
mg
Fiber:
2.3
g
Sugar:
11.7
g
Disclaimer: This recipe post contains Amazon affiliate links. This means that if you click on a link and make a purchase, I will receive a small commission (at no extra cost to you). This helps support me so that I can continue to put out high quality, free recipes for you guys! Thank you 😁🙌