Christmas is nothing without baileys in your coffee! Am I right?! If so, my homemade dairy free & vegan baileys recipe is for you. This recipe is also soy free and gluten free.
This also makes an excellent Christmas gift or party favour.
What makes this dairy free baileys recipe a healthier choice?
Lactose intolerance isn't the only reason to consider limiting or even cutting out dairy from your diet. For example, if you are dealing with hormonal imbalances, have acne or suffer from PCOS (polycystic ovary syndrome) finding alternatives to dairy may be a huge help.
I personally cut out dairy over two years ago and my skin has never been so healthy and clear. My hormones have balanced and my periods are a lot more regular.
Many of my healthy premade meal plans are also dairy free, including the ones below.
What you'll need for this recipe
To make this dairy free baileys recipe, you'll need the following equipment and ingredients:
Equipment:
can opener
large pot
measuring cups and measuring spoons
stovetop
large wooden spoon
at least eight Mason jars with lids
Christmas bows – optional, but it makes it look so festive!
Ingredients:
3 cans of full fat coconut milk
at least 1200 mL of unsweetened un-flavoured oat milk
1 tablespoon of vanilla extract
⅛ of a teaspoon of almond extract (optional, but is tasty!)
1 ½ cups of brown sugar
2 tablespoons of instant coffee
500 to 750 mL of whiskey
How to make this recipe
Full instructions for this recipe can be found below on the recipe card, but if you'd like to watch this dairy free Baileys recipe being made step-by-step, check out the video below.
Recipe substitutions or variations
Don't have canned coconut milk? You could swap out the coconut milk for any other type of dairy free milk. Full fat canned coconut milk is very thick and creamy though, which makes for a nice baileys. So if you swap it out, try to choose creamier or thicker dairy free alternatives.
Don't have oat milk? As long as you've got the thick creamy canned coconut milk as your base, the oat milk can be swapped out for any other type of dairy free milk – almond milk, cashew milk, pea milk, coconut milk, etc.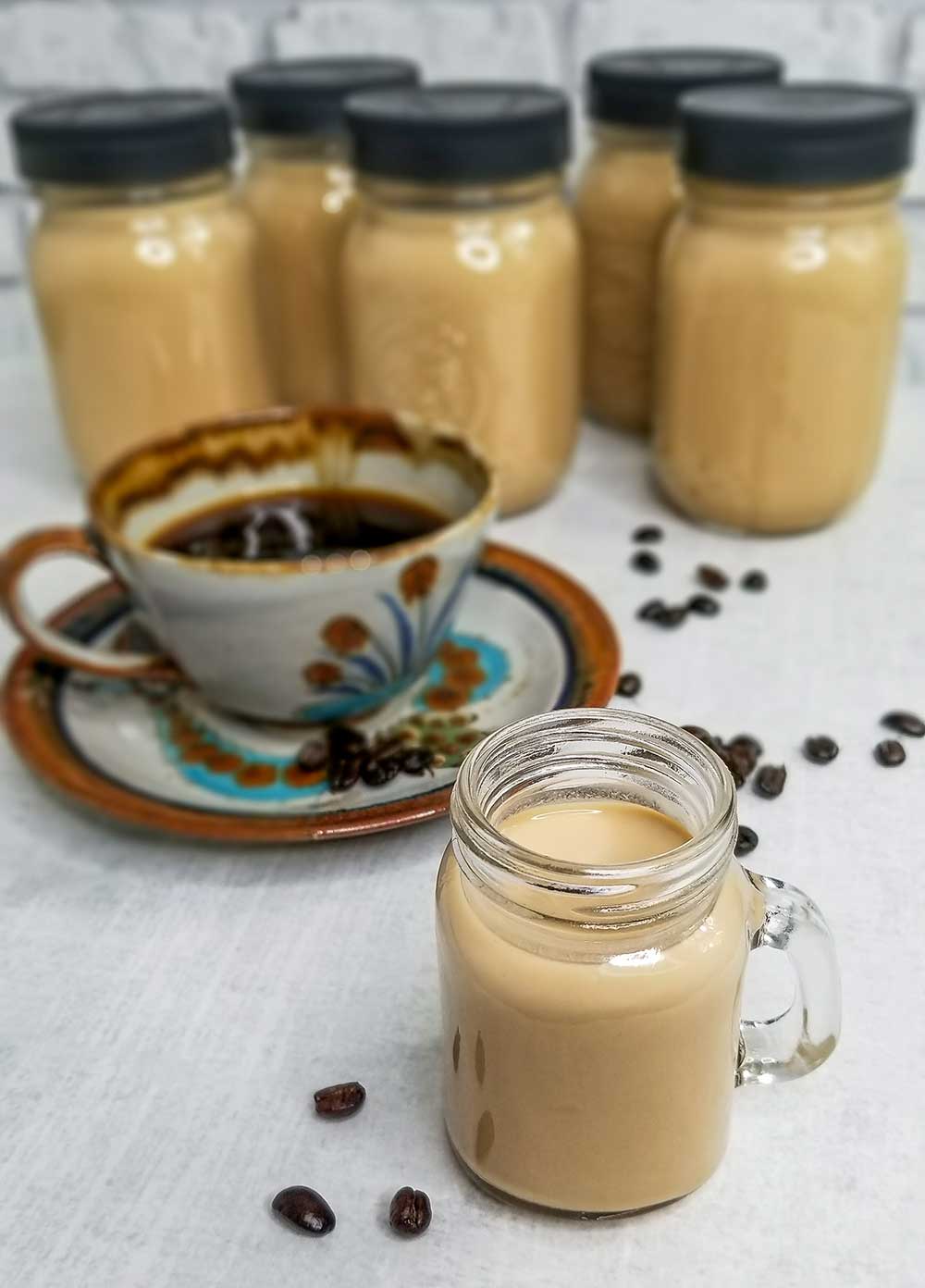 Don't have brown sugar or want to use a different type of sugar? Brown sugar can be swapped out for coconut palm sugar, cane sugar, or any other type of granulated sugar. If you want this recipe to be sugar-free, use a granulated sweetener such as Swerve or erythritol. You can also use Stevia in place of any type of granulated sugar if you prefer – just use significantly less than you would a granulated sugar.
Don't have instant coffee? You can also use brewed coffee, however my only warning for this is that it may thin out the baileys so it won't be as creamy. You can also feel free to leave out the coffee completely, especially if you know you are only going to be mixing it with coffee anyways.
Off the booze right now? No problem, this recipe still tastes amazing without the alcohol and goes really well with coffee, tea or on the rocks.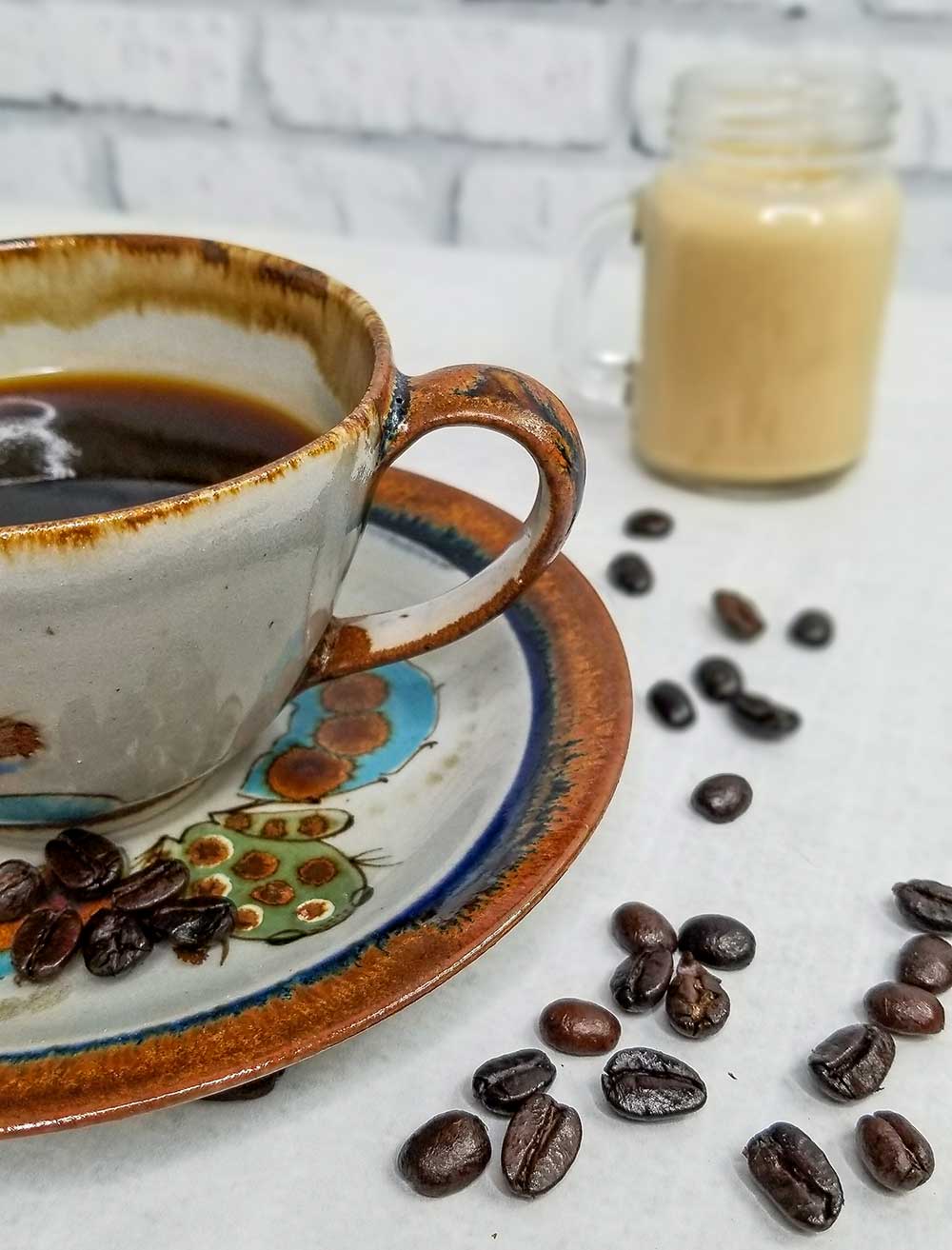 Recipe pairing ideas
Enjoy this vegan baileys with:
Regular coffee
Black tea (earl grey is delicious and I imagine orange pekoe would be as well!)
On the rocks a.k.a. with ice cubes in a glass
In a coffee alternative such as mushroom coffee, dandy blend, or dandelion root tea
The world is your oyster!
Recipe frequently asked questions
How should you store the baileys?
I personally love using mason jars with the reusable plastic screw on lids. It's cheap, it's made of glass, and it's pretty spill proof if you are carting them around to all the Christmas parties or dropping them off as gifts!
Should the baileys be refrigerated?
Yes, you will want to make sure to keep it in the fridge so that it lasts longer and stays fresh.
How long does dairy free baileys last in the fridge?
I usually try to drink it within a week. Because the recipe uses canned coconut milk, which usually does not contain much for preservatives, it is best to drink it while its most fresh. Although the alcohol might act as a bit of a preservative! 😆
Is this recipe ok for the vegan diet?
Yes! This is also a vegan baileys recipe, as it contains no animal products in the ingredients. This recipe is suitable for both dairy free, vegetarian AND vegan diets.
Can you make baileys without alcohol?
Yes! This recipe tastes great without alcohol and can still be used as a nice addition to coffee or tea. It's basically a homemade creamy & sweet coffee creamer. You can also drink it on the rocks.
Pin this recipe for later
Dairy Free & Vegan Baileys Recipe
This recipe is gluten free, dairy free, vegan and soy free.
Equipment
Large pot

Wooden spoon

Can opener

Measuring cups & measuring spoons

Stove top

Mason jars & lids

Mason jar funnel (optional)
Ingredients
3

cans

full fat coconut milk

3

can fulls

unsweetened oat milk

(or any other dairy free milk)

1

tbsp

vanilla extract

1/8

tsp

almond extract

1 1/2

cups

brown sugar

(or coconut palm sugar)

2

tbsp

instant coffee

500-750

ml

whiskey

(from moderate booziness to maximum booziness)
Instructions
Open 3 cans of coconut milk with your can opener

Add canned coconut milk, 3 additional can-fulls of oat milk, instant coffee and brown sugar into a large pot.

Set the burner to low-medium and bring the pot of liquid *just* to a soft boil, stirring often to make sure everything dissolves and mixes together, and that it doesn't burn on the bottom of the pot.

Once the sugar and instant coffee has dissolved, remove from heat.

Add 1 tbsp vanilla extract

Add 1/8 tsp almond extract

Add 500-750 ml whiskey (750 if you want it extra boozy)

Pour into roughly 8 mason jars using a mason jar funnel if you have one.

Let cool for a couple hours (or until it is room temperature).

Cover mason jars with lids and store in the fridge.
Notes
Note: serving sizes are based on the amount of baileys that contains roughly 1.5 oz of whiskey. 
Nutrition
Calories:
310
kcal
Carbohydrates:
49.2
g
Protein:
2.1
g
Fat:
11.7
g
Saturated Fat:
11
g
Trans Fat:
0
g
Cholesterol:
0
mg
Sodium:
47.5
mg
Potassium:
58.2
mg
Fiber:
0.6
g
Sugar:
24.1
g
About the author Tara Klippert
Tara Klippert is a Registered Health and Nutrition Counselor and holds a diploma in Holistic Nutrition and Health Coaching. She shares her gluten free, dairy free & allergy friendly recipes.