The family traditions are what makes the holidays such special occasions! Am I right?! If so, my homemade vegan baileys recipe is for you. It's made with natural ingredients and is a perfect addition to that first (or second) strong coffee of the morning! It also makes an excellent Christmas or St. Patrick's day gift for any dairy-free foodies in your life (or anyone with lactose intolerance).
In all seriousness, I've always loved bailey's Irish cream liqueur but since I stopped eating dairy I really missed it during the festive period. That's why I created my own version of it using simple ingredients and if I'm being completely honest, I really believe my homemade version is as good as the store bought staple.
Recipe substitutions
Don't have canned coconut milk? You could swap out the coconut cream for any other type of dairy free milk. Full-fat coconut milk has a creamy texture, which makes for a nice baileys. If you swap it out, try to choose thicker plant-based milks.
Don't have oat milk? As long as you've got the thick creamy canned coconut milk as your base, the oat milk can be swapped out for any other type of dairy free milk – almond milk, cashew milk, pea milk, soy milk, coconut milk, etc.
Don't have brown sugar or want to use a different type of sugar? Brown sugar can be swapped out for coconut sugar, cane sugar, agave syrup or any other type of granulated sugar. Even maple syrup is a good option, if you enjoy a little extra flavor. If I were you, I'd use whatever is already in your cupboard and save some money at the grocery store.
Don't have instant coffee? You can also use brewed coffee, however my only warning for this is that it may thin out the baileys so it won't be as creamy. You can also feel free to leave out the coffee completely, especially if you know you are only going to be mixing it with coffee anyways. If you want more coffee flavor use instant espresso powder.
Off the booze right now? No problem, this recipe doesn't have to be an alcoholic drink. It still tastes amazing without the whiskey and goes really well with coffee, tea or on the rocks.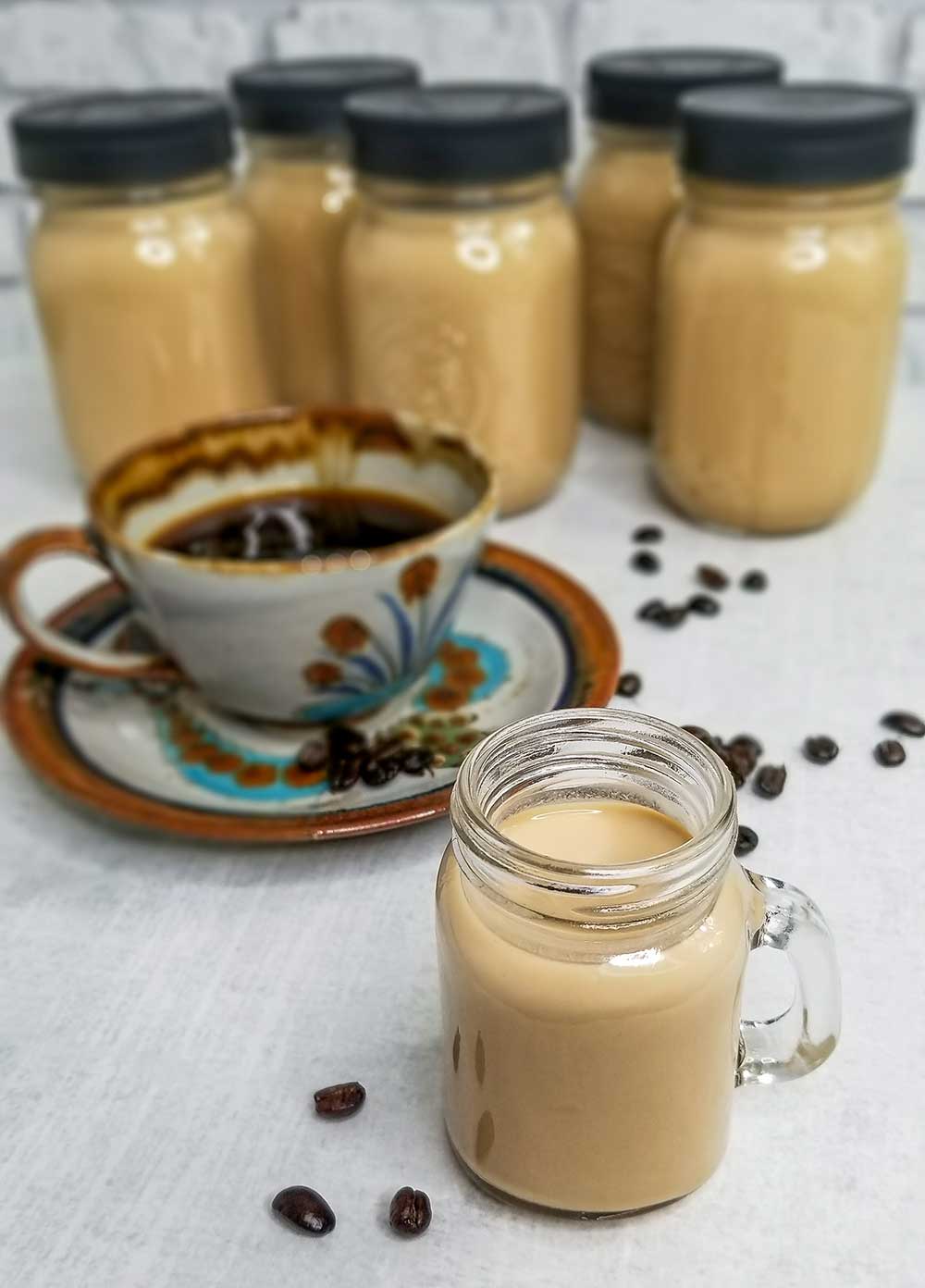 Dietary modifications
Make this recipe keto friendly: Use a granulated sweetener such as Swerve or erythritol. You can also use Stevia in place of any type of granulated sugar if you prefer – just use significantly less than you would a granulated sugar. If you want more of a traditional baileys, just swap out the non-dairy milk/coconut cream with cow's milk and full fat dairy cream or whipping cream.
Make this recipe candida friendly: Swap out the sugars and leave out the booze for a candida friendly treat.
Recipe pairing ideas
Enjoy this homemade baileys with:
Regular coffee
Black tea (earl grey is delicious and I imagine orange pekoe would be as well!)
On the rocks a.k.a. with ice cubes in a glass
In a coffee alternative such as mushroom coffee, dandy blend, or dandelion root tea
Hot chocolate
The world is your oyster! If you really want something extra, add a scoop of ice cream on top and maybe dust with a little cocoa powder. It's the holidays, go nuts!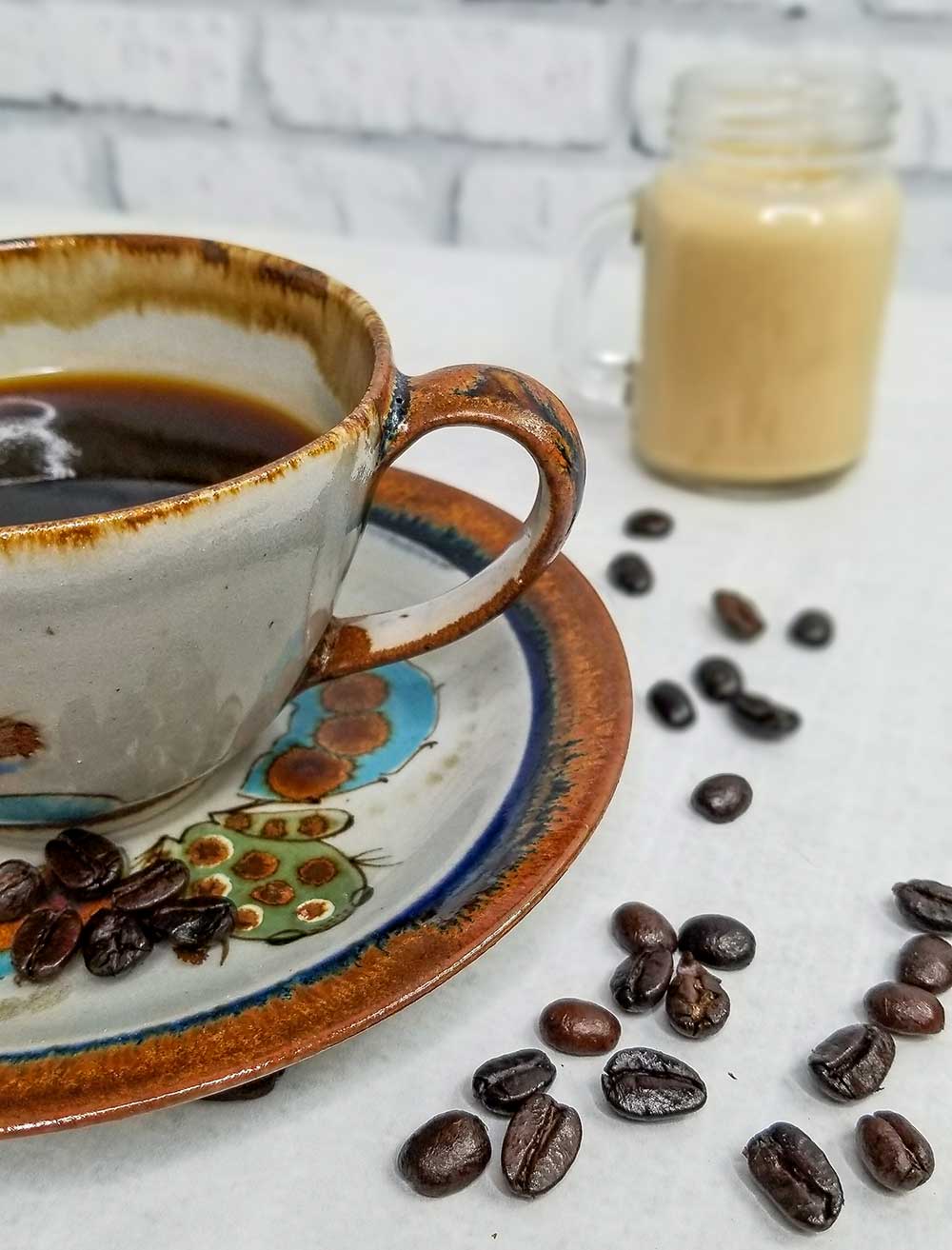 Recipe frequently asked questions
How should you store the baileys?
I personally love using mason jars with the reusable plastic screw on lids. It's cheap, it's made of glass, and it's pretty spill proof if you are carting them around to all the Christmas parties or dropping them off as gifts!
Should the baileys be refrigerated?
Yes, you will want to make sure to keep it in the fridge so that it lasts longer and stays fresh.
How long does dairy free baileys last in the fridge?
I usually try to drink it within a week. Because the recipe uses canned coconut milk, which usually does not contain much for preservatives, it is best to drink it while its most fresh. Although the alcohol might act as a bit of a preservative! 😆
Is this recipe ok for the vegan diet?
Yes! This is also a vegan baileys recipe, as it contains no animal products in the ingredients. This recipe is suitable for both dairy free, vegetarian AND vegan diets.
Can you make baileys without alcohol?
Yes! This recipe tastes great without alcohol and can still be used as a nice addition to coffee or tea. It's basically a homemade creamy & sweet coffee creamer. You can also drink it on the rocks.
Tried my recipe?
Please leave me a rating and review below, and post a picture of the dish to Instagram and tag me at @foodsnfeels 🙌
You might also like:
If you like this recipe, you might also like my other Christmas recipes:
For more Christmas recipes, grab my Healthy Holiday Recipe Book (50 Recipes)!
Homemade Baileys Recipe (Dairy Free & Vegan)
This recipe is gluten free, dairy free, vegan and soy free.
Instructions
Open 3 cans of coconut milk with your can opener.

Add canned coconut milk, 3 additional can-fulls of oat milk, instant coffee and brown sugar into a large pot.

Set the burner to low-medium and bring the pot of liquid *just* to a soft boil, stirring often to make sure everything dissolves and mixes together, and that it doesn't burn on the bottom of the pot.

Once the sugar and instant coffee has dissolved, remove from heat.

Add 1 tbsp vanilla extract.

Add 1/8 tsp almond extract.

Add 500-750 ml whiskey (750 if you want it extra boozy).

Pour your baileys into roughly 8 mason jars using a mason jar funnel if you have one.

Let cool for a couple hours (or until it is room temperature).

Cover mason jars with lids and store in the fridge (shelf life is 1 week approx.)
Notes
Note: serving sizes are based on the amount of baileys that contains roughly 1.5 oz of whiskey. 
Nutrition
Calories:
310
kcal
Carbohydrates:
49.2
g
Protein:
2.1
g
Fat:
11.7
g
Saturated Fat:
11
g
Trans Fat:
0
g
Cholesterol:
0
mg
Sodium:
47.5
mg
Potassium:
58.2
mg
Fiber:
0.6
g
Sugar:
24.1
g
Disclaimer: This recipe post contains Amazon affiliate links. This means that if you click on a link and make a purchase, I will receive a small commission (at no extra cost to you). This helps support me so that I can continue to put out high quality, free recipes for you guys! Thank you 😁🙌