Buckwheat has a delicious nutty flavor and is very similar in texture to regular oatmeal. It can be enjoyed with added nuts, seeds or any of your other favorite toppings. My favorite way to enjoy it is with full fat coconut milk, stevia and cinnamon! When I make it, I like to make a big batch so that I can store individual portions in the freezer to take out during the week for a delicious breakfast.
If you are curious about the health benefits of buckwheat, it has about 5.5 grams of protein per cup and is a source of potassium, phosphorus and magnesium. It is also high in dietary fiber and vitamin Bs.
This is a great breakfast recipe for anyone who is following the candida diet as it is free of sugar, and rich in candida fighting ingredients such as coconut milk and cinnamon. Buckwheat is also free of gluten, so can be enjoyed by people with celiac disease or anyone who is following a gluten-free diet.
This recipe is also dairy free, vegan, low FODMAP, and elimination diet friendly.
Products I recommend for this recipe
Recipe ingredient substitutions
Creamy buckwheat hot cereal substitutions: If you aren't able to find this brand, you can also use raw buckwheat groats which will make a super hearty buckwheat porridge. It will have a little bit of a different texture but will still taste great! Other alternatives to buckwheat are cream of rice, millet and regular oats.
MCT oil substitutions: Instead of MCT Oil, you can also use regular coconut oil, or any other healthy fats.
Full fat coconut milk substitutions: Instead of full fat coconut milk, you can use any other type of non-dairy milk including almond milk, cashew milk, oat milk, etc.
Cinnamon substitutions: Instead of cinnamon, you can use other seasonings much as cloves, nutmeg, allspice etc. Or you could get crazy and add some cacao powder to make it a chocolate buckwheat porridge!
Stevia powder substitutions: Instead of using stevia powder which is not always available in grocery stores, you can also use liquid stevia drops (which also come in a lot of different flavors!) or a granulated sugar alternative such as Swerve. If you do okay with a bit of sugar, you can also add a bit of pure maple syrup.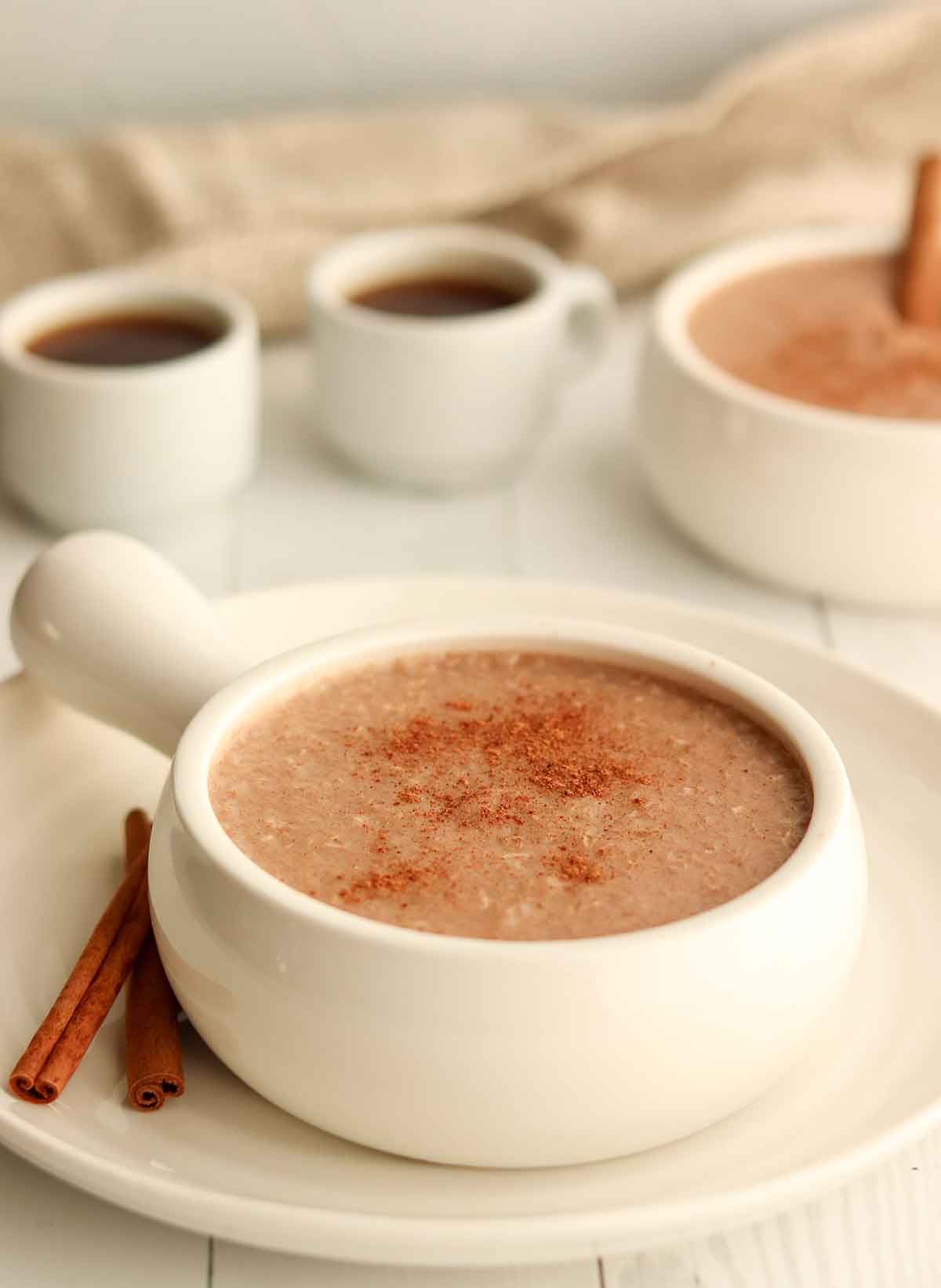 Dietary modifications
Make this recipe lower calorie: Make this recipe lower calorie by swapping out the full fat canned coconut milk for a light canned coconut milk. Or if you buy the unsweetened coconut milk in the tetra pak container, it is generally very low in calories. You can also omit or reduce the MCT oil from this recipe.
Make this recipe lower oxalate: Instead of using creamy buckwheat cereal, you can swap it out for cream of rice, or even whole white rice to make it sort of like a rice pudding. Millet could also be swapped out as a medium oxalate alternative to buckwheat which is high oxalate. Reduce the amount of cinnamon in half or omit altogether.
Make this recipe lower histamine: Omit the cinnamon. All other ingredients are low histamine.
Recipe pairings
The nice thing about breakfast porridge is that you can add all kinds of different flavors and toppings to jazz it up. Consider adding:
chia seeds
hemp seeds
sunflower seeds
almond butter, peanut butter, cashew butter or other nut butters
fresh fruit like apples or berries
vanilla extract
raw honey, brown sugar or a drizzle of maple syrup
any kind of plant-based milk
Storage tips
Store each individual serving in an airtight container in the fridge for up to 1 week, or freeze for much longer.
Tried my easy buckwheat porridge recipe?
Please leave me a rating and review below, and post a picture of the dish to Instagram and tag me at @foodsnfeels 🙌
You might also like:
If you liked this recipe, check out my other candida diet recipes:
For even more candida diet recipes, grab my free 7 day candida meal plan!
Coconut & Cinnamon Buckwheat Porridge Recipe (Candida Diet)
A great breakfast recipe for the candida diet because it's sugar free and rich in candida fighting ingredients such as coconut milk and cinnamon.
Instructions
On the stove in a medium to large sized pot, bring your water and salt to a boil on medium-high heat.

Once your water has boiled, add the MCT oil as well as the dry buckwheat cereal (or buckwheat groats).

Reduce the heat to low-medium heat and cook uncovered for roughly 10 minutes, stirring often.

Once your creamy buckwheat porridge is cooked, turn off the heat and add your coconut cream, cinnamon and stevia powder or liquid.

Allow your porridge to cool down and distribute into 6 different airtight containers. These will last up to 1 week in the fridge or much longer in the freezer.
Notes
Above in the blog post I provide recipe ingredient substitutions, dietary modifications, storage tips and recipe pairing ideas.
Nutrition
Calories:
250
kcal
Carbohydrates:
37
g
Protein:
4
g
Fat:
9.5
g
Saturated Fat:
7
g
Polyunsaturated Fat:
0.1
g
Monounsaturated Fat:
0.3
g
Trans Fat:
0
g
Cholesterol:
0
mg
Sodium:
199
mg
Potassium:
4
mg
Fiber:
2.5
g
Disclaimer: This recipe post contains Amazon affiliate links. This means that if you click on a link and make a purchase, I will receive a small commission (at no extra cost to you). This helps support me so that I can continue to put out high quality, free recipes for you guys! Thank you 😁🙌