This mac and cheese recipe is gluten and dairy free, and is compliant with the elimination diet, low acid diet, and low oxalate diet.
Although this recipe does not contain any actual cheese, vegan or not, the butternut squash and nutritional yeast give this recipe it's rich orange cheesy feel.
Below I also include instructions on how to make this recipe lower calorie/fat, paleo and autoimmune paleo (AIP) friendly, and lower in oxalates.
Product brands I recommend for this recipe
Barista oat milk by Earth's Own – This stuff is super creamy and satisfying, and can be made with either savoury or sweet recipes.
Bob's Red Mill nutritional yeast
Real Salt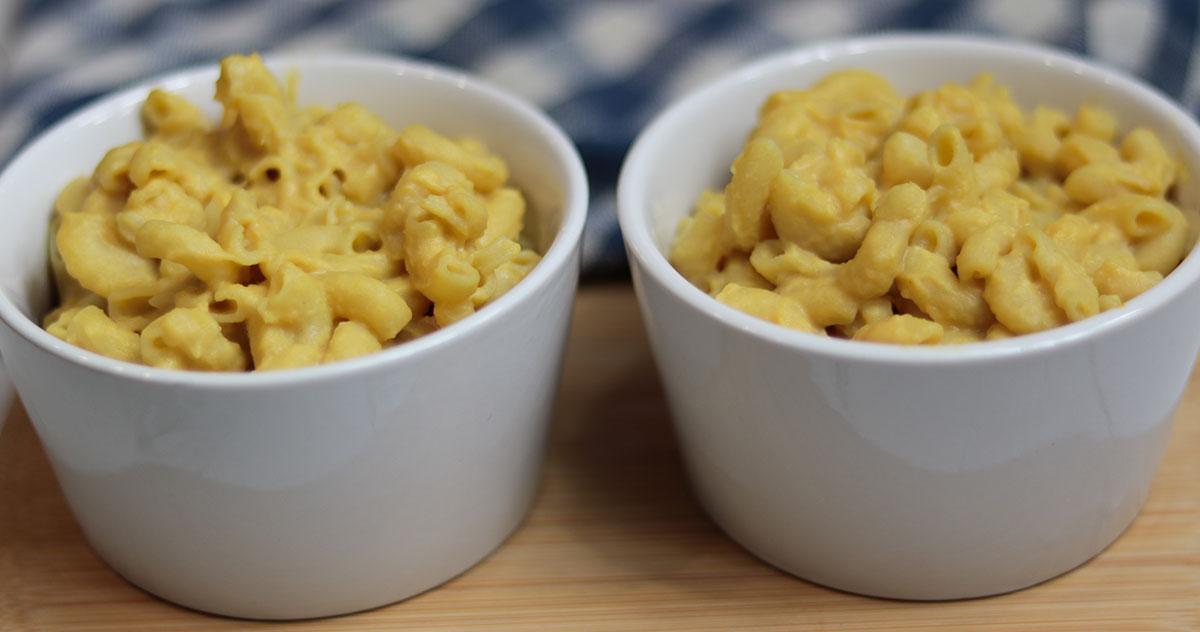 Recipe ingredient substitutions
Oat milk substitutions: Instead of using oat milk, you can swap it out for any other dairy free milk alternatives such as coconut milk, almond milk, cashew milk, macadamia milk etc. You can also just use a couple cups of water or vegetable broth if you're not a fan of non-dairy milk. You could even use the pasta water so that it helps make your sauce a little thicker.
Garlic infused olive oil substitutions: Feel free to use regular extra virgin olive oil in this recipe. If you still want the garlic flavor though, you can add one or two diced fresh garlic cloves or a teaspoon of garlic powder.
Gluten-free pasta substitutions: If you aren't able to get gluten-free macaroni noodles, you can swap it out for any other gluten-free pasta. Or if you want to make this recipe lower carb, you can use konjac noodles or cauliflower rice.
Frozen butternut squash substitutions: If you aren't able to get cubed frozen butternut squash, feel free to buy fresh butternut squash instead. You'll just have to peel it, scrape out the seeds and cut it up yourself. If you can't find squash, sweet potatoes would also taste pretty good.
Recipe variations
Add more flavor to this recipe: Consider adding ½ teaspoon of onion powder and ½ teaspoon of garlic powder. Or alternatively use ¼ cup fresh diced onion and two fresh garlic cloves. You can also add flavors and spices like lemon juice, dijon mustard, or yellow onion if you want more than just the cheesy flavor.
Bake it: Once you've mixed your cooked pasta into your sauce, instead of serving it, throw it into a baking dish lined with parchment paper and top it with gluten free panko breadcrumbs (mixed with vegan parmesan if you've got it). Bake at 400F until the parm melts and the breadcrumbs get deliciously brown and crispy. Serve this vegan baked mac immediately. Even picky kids will love this version!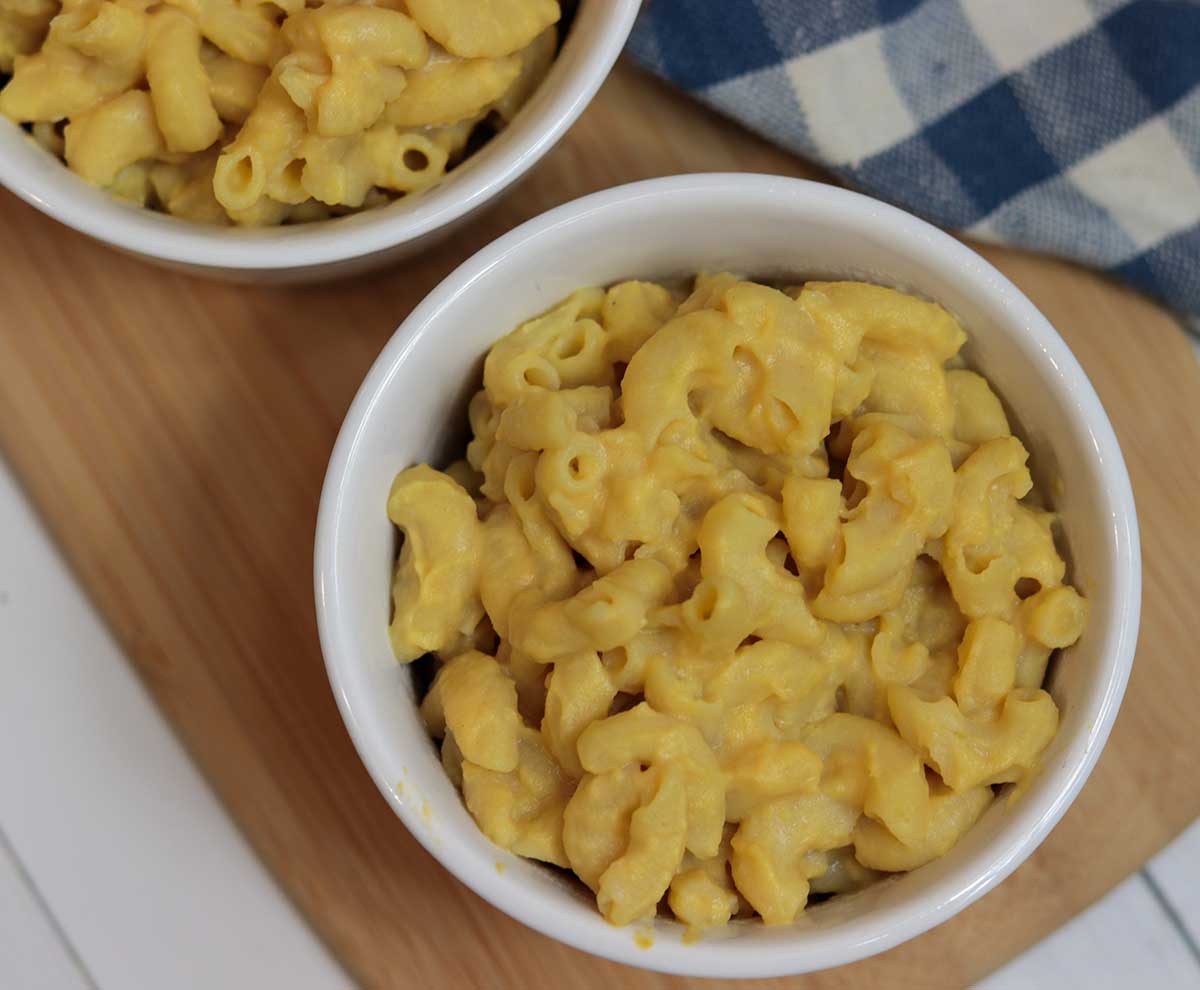 Dietary modifications
Make this recipe lower calorie/fat: Reduce the amount of olive oil from 2 tablespoons down to 1 tablespoon or less.
Make this recipe paleo & AIP friendly: Swap out the oat milk for coconut milk, and swap the gluten-free pasta for cauliflower rice.
Make this recipe lower oxalate: Rather than using oat milk, swap it out for coconut milk. Make sure your pasta is rice based, or use cauliflower rice.
Recipe pairing ideas
Include this vegan mac and cheese in a balanced meal: Fill one quarter of your plate with protein of your choice, one quarter of your plate with mac and cheese, and half your plate with unlimited vegetables or salad. Use up the ingredients you have before heading off to the grocery stores for more!
Add roasted broccoli and optional add-ins: If you want to add a little bit of extra nutrition and fiber, mix in some roasted broccoli. There is nothing like broccoli and cheese. The butternut squash sauce is just a base. You can also add other simple ingredients to it like cauliflower or red peppers to turn it into a one pot meal.
Add bacon: If you are only avoiding dairy and you still eat meat, try adding homemade bacon bits to this mac and cheese. As you know, bacon goes with everything!
Recipe FAQs
How can I make the mac & cheese sauce thicker?
Depending on how much liquid comes out of the butternut squash, and how thick or thin your dairy free milk is, you may find that the sauce is not thick enough. If this happens, transfer it back into your pan after blending it and bring it back up to a simmer. Mix 1 tablespoon of potato starch or tapioca starch into ¼ cup of dairy free milk. Pour this mixture into your simmering sauce and whisk until your sauce thickens up. Remove from heat and serve immediately.
Does this vegan mac & cheese freeze well?
Unfortunately it does not freeze super well. The first time I made this, I froze some additional portions and each time I thawed them and reheated them, they were quite mushy and had lost a lot of their flavor. I suggest storing your leftovers in an airtight container in the fridge and eating it up within a couple days. If you plan on freezing your leftovers, try cooking your pasta al dente (undercook it slightly) and see if that helps.
Can I use an immersion blender?
Probably not a good idea. My experience is that it would be too thick to blend and you might not get the creamy texture you're looking for.
Tried this recipe?
Please leave me a rating and review below, and post a picture of the dish to Instagram and tag me at @foodsnfeels 🙌
You might also like
If you liked this recipe, check out my other vegan & gluten free recipes:
If you are looking for more, download one of my free seven day meal plans!
Butternut Squash Mac and Cheese (Vegan)
This vegan butternut squash mac and cheese recipe is gluten and dairy free, and is compliant with the elimination diet, low acid diet, and low oxalate diet.
Instructions
Heat your pan to medium heat and add 2 tablespoons of garlic infused olive oil.

Add the frozen butternut squash cubes.

Cook until the butternut squash is fully thawed and cooked through, stirring often.

While your butternut squash is cooking, bring a large pot of water to a boil. Salt the water generously and add your gluten-free pasta, stirring often until cooked through. Follow the package directions and be careful not to overcook.

Add oat milk, nutritional yeast and ½ teaspoon salt to your butternut squash once it's fork tender.

Continue cooking until all the flavors have started combining, around five minutes. Stir often. Turn the heat off and let the butternut squash mixture cool down a bit.

At this point your pasta will likely be done. Strain your pasta and set aside.

Once your butternut squash mixture has cooled a bit, transfer it into a food processor or blender and blend until smooth.

Add your sauce to your cooked macaroni and stir everything together.
Notes
In the blog post above, I also include instructions on how to make this recipe lower calorie/fat, paleo and autoimmune paleo (AIP) friendly, and lower in oxalates.
Nutrition
Serving:
6
g
Calories:
202
kcal
Carbohydrates:
32.6
g
Protein:
4.8
g
Fat:
6.5
g
Saturated Fat:
0.9
g
Polyunsaturated Fat:
1
g
Monounsaturated Fat:
4.1
g
Trans Fat:
0
g
Cholesterol:
0
mg
Sodium:
200
mg
Potassium:
338.5
mg
Fiber:
2.6
g
Sugar:
2.9
g
Disclaimer: This recipe post contains Amazon affiliate links. This means that if you click on a link and make a purchase, I will receive a small commission (at no extra cost to you). This helps support me so that I can continue to put out high quality, free recipes for you guys! Thank you 😁🙌