In this recipe, I will teach you how to make gluten free pad thai from scratch as well as share a homemade recipe for tamarind paste. As an added bonus, I made sure this recipe was gluten AND soy free!
Pad thai has got to be one of the best meals that's quick, easy and oh so tasty! Many people ask me, is pad thai gluten free? It can be confusing because it's usually made with rice noodles. However, pad thai recipes often call for soy sauce and most soy sauces contain gluten.
Instead of soy, this recipe calls for coconut aminos which is a gluten- and soy-free alternative to soy sauce. Coconut aminos looks and tastes pretty much identical to soy sauce but is made from the fermented sap of coconut palm.
Recipe for tamarind paste
For this recipe, we actually bought full on fresh, dried tamarind. Whoa!! They look like little poop nuggets…see?
Anyways, I digress! The amount of tamarind paste this recipe calls for is a touch more than what you'd need if you purchased the store-bought stuff because we're using actual tamarind. Store bought tamarind paste can be very concentrated and strong – so I wanted to make sure to give you a head's up on this. If using store-bought tamarind paste, you may want to consider putting a little bit less in.
Making tamarind paste from dried tamarind is super easy. All you have to do is de-shell the tamarind, put them all in about 2 cups of warm water, squish them around with your hands until it starts getting thicker, and then put it through a fine strainer. That's it!
Let me know what you think about this healthy gluten free pad thai recipe and check out all of my other recipes!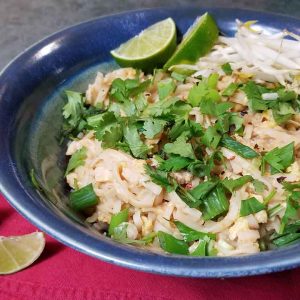 Gluten free soy free pad thai recipe
This recipe is gluten free, dairy free, and soy free.
Ingredients
6

chicken breasts

450

g

rice noodles

6

Eggs

1

tbsp

coconut oil

1

bunch

green onions

340

g

bean sprouts

1

bunch

fresh cilantro

2

limes
Sauce
1/2

cup

fresh tamarind paste

See directions

1/4

cup

fish sauce

1/4

cup

coconut aminos

2

tbsp

lime juice

1

tsp

Yai's thai chili garlic sauce

1/2

tsp

garlic powder

1/4

cup

crunchy peanut butter
Instructions
To make the tamarind paste, de-shell the tamarind and put them all in 2 cups warm water. Squish them around with your hands until it starts getting thicker and then put it through a fine strainer to remove pulp and seeds

Bake your chicken breasts at 350'F for 30 minutes, set aside

While your chicken is baking, make the sauce by mixing everything together in a bowl

Then scramble your 6 eggs in a pan with coconut oil and set aside

Put your noodles on to boil

While your noodles are boiling. slice up your chicken breast, green onions and cilantro

When your noodles are done, toss them back in the pot and mix in the sauce, chicken, scrambled eggs, green onions, cilantro and bean sprouts  

Garnish with fresh cilantro and lime wedges
About the author Tara Klippert
Tara Klippert is a Registered Health and Nutrition Counselor and holds a diploma in Holistic Nutrition and Health Coaching. Tara helps people clear up cystic acne, balance hormones and blood sugar + improve anxiety and gut health NATURALLY with food.