I have a serious problem with over-consuming mayonnaise, so naturally I had to make my own healthier olive oil mayonnaise recipe! I know I'm not alone – I mean, let's be real – mayo is just amazing and goes with everything.
Generally, store-bought mayonnaise is made with canola oil or soybean oil or a combination of both. But the paleo diet strongly advocates for eating olive oil instead of vegetable oils.
So, to feel less guilty about my mayo intake – and to avoid crappy inflammatory oils – I've been making my own olive oil mayonnaise recipe with light tasting olive oil. It's pretty easy, simple and cheap to make your own mayo and the result tastes impressively similar to the store bought stuff! I use extra egg yolks to give it a rich and tasty feel, but you can also feel free to use less.
If you follow any of my of healthy pre-made meal plans, you will be consuming far less inflammatory vegetable and seed oils, and will increase your consumption of low inflammation and health promoting fats and oils. Here are a few examples!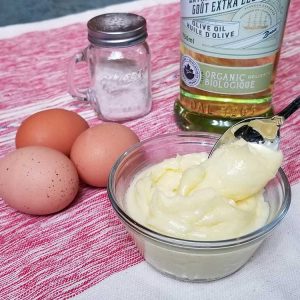 Homemade olive oil mayonnaise recipe
This recipe is gluten free, dairy free, and soy free.
Equipment
Food processor or blender
Ingredients
3

egg yolks

1

tsp

white vinegar

1/2

tsp

garlic powder

1/2

tsp

Salt

1

cup

olive oil

Light tasting!
Instructions
Put everything except for oil in a blender or food processor and blend on low for about 30 seconds to 1 minute.

Then while still blending, start to slowly (and I mean seriously slow!) drizzle the olive oil in until it starts to thicken up.

Once you can see it start to thicken, you can speed up the rate at which you pour the oil in until it's all in there. And that's it!

Store in the fridge and eat within 1 week.
About the author Tara Klippert
Tara Klippert is a Registered Health and Nutrition Counselor and holds a diploma in Holistic Nutrition and Health Coaching. Tara helps people clear up cystic acne, balance hormones and blood sugar + improve anxiety and gut health NATURALLY with food.